Homes and Communities Agency boss denies Budget housing measures could simply end up boosting house prices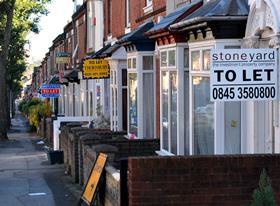 The Homes and Communities Agency's acting chief executive Richard Hill has denied that measures worth more than £15bn to support housing in yesterday's Budget could simply end up boosting house prices.
Richard Hill, who is also executive director of programmes at the HCA, said that the new version of FirstBuy announced yesterday by chancellor George Osborne, worth £3.5bn, would promote the construction of more new homes.
Concerns have been raised that this measure, coupled with a huge extension of mortgage guarantees for home buyers, could fuel house price inflation without necessarily boosting construction.
Hill said the fact that the equity loan part of the scheme, which extends the existing FirstBuy programme, will be rolled out over three years means it will impact upon housebuidlers' construction programmes. He said: "Because this runs for three years it gives housebuilders a chance to not just use this to improve rates of sale, but to look again at their build programmes. They will be able to see if they want to build more."
Asked if the move could fuel house price inflation, he said: "Because this is a three year announcement housebuilders can mitigate any impact this might have on increasing prices because they should be able to build more homes which acts to bring prices down."
Hill confirmed that under the new scheme the government will take 20% of the equity in a new home, removing the requirement for housebuilders to themselves put up a 10% stake, as is the case under the existing FirstBuy programme. He said this change would allow the much more rapid expansion of the programme because it did not require housebuilders to tie up cash on their balance sheets.
In addition he said it would make the scheme more attractive to smaller builders. He said: "We're very keen to get this to work for smaller builders, and we've asked the HomeBuy Agents [who currently administer sales under the scheme] to do a bit more to help smaller developers, ensuring there's not an administrative block on rolling this out."
Hill confirmed that another measure in yesterday's budget, the doubling of a £225m fund to support the delivery of affordable homes that make use of a government guarantee, will see the current bidding round for that fund extend to 21 May. It had been due to end on 23 April. Yesterday's announcement will see programme's size doubled to £450m, as well as the length of time developers have to deliver homes under the programme, meaning it will now run to 2017.
He said: "We have had some feedback that associations were worried about being able to meet the delivery target of new build homes by 2015. This will see more funding spread over a longer period."
The budget also revealed that 30 surplus public sites have now be transferred to the HCA for it to disposed of for new housing. Hill said these sites had come from "NHS Trusts and other government departments" but said more detail would be forthcoming on this programme in April.