Winners were due to be told later this spring
Heathrow Airport has admitted last week's decision to rule illegal its plan to build a third runway has raised doubts over when it will award the contracts to build four offsite logistic hubs.
Last year, Heathrow bosses drew up a shortlist of 18 sites which are pitching for the chance to become one of the four construction centres.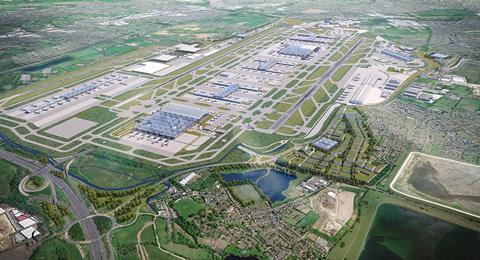 A decision on the hubs had been expected later this spring but a Heathrow spokesperson admitted: "The timelines are being reviewed."
Sites owned by steelwork contractor Severfield as well as ones run by Balfour Beatty and Tarmac are all in the running for the work.
Heathrow expansion director Phil Wilbraham told Building last year the hubs will be used to keep the number of site workers required at Heathrow down to around 10,000 people.
"If we constructed it [the new runway] like we did T5, there would be around 15,000 on the site at any one time."
Heathrow has said it will appeal the court's decision, although the government has said it will not do so.
Mace chief executive Mark Reynolds said the ruling "threatened the future growth of the UK construction and infrastructure sector".
Construction of a new runway was expected to be completed between 2028 and 2029. The new runway would involve diverting rivers, moving roads and rerouting the M25 through a tunnel under the new runway. Work was expected to continue until 2050.