Airport says schemes such as HS2 and Hinkley could make use of planned off-site manufacturing hubs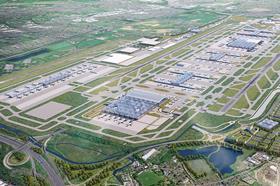 Heathrow Airport has said it hopes its idea for a series of off-site manufacturing hubs to help with its £16bn expansion plans will be used by other major projects, including the new nuclear power station at Hinkley and the HS2 railway.
The airport has given bidders interested in delivering the hubs until the end of July to submit ideas and expects close to 30 expressions of interest. A longlist of bidders will be announced later this year.
Off-site accounts for around 10% of the construction industry but Heathrow's expansion programme director Phil Wilbraham said it is aiming for between 25% and 40% on its scheme. The airport wants to use the method to reduce the number of its peak on-site workforce from 14,000 to 10,000, and Wilbraham said Heathrow plans to approach Hinkley and HS2 over the potential for them to use the facilities, as the hubs could be used to achieve efficiencies on other major infrastructure schemes.
"This is not just for Heathrow. Maybe this can be [used] for Hinkley, HS2 and housing," he said. He added: "We wouldn't run the hubs ourselves. We run an airport."
The airport's chief executive John Holland-Kaye said it was the responsibility of major projects like Heathrow to pioneer new ways of working. He said: "We need to make sure we're all working to a single plan to shift to off-site. Then we can leave a legacy of skills in off-site manufacturing." Speaking about the hubs, he added: "This is an opportunity to change the way the construction supply chain works by moving to off-site manufacturing."
He said off-site was safer, cleaner and less weather dependent.
Four hubs are planned and Wilbraham confirmed one would definitely be in Scotland, leaving three up for grabs elsewhere. He said he expected between 20 and 30 bids from across the country and added that he expected to see interest from landowners, local authorities and local enterprise partnerships, as well as infrastructure owners such as other airport owners. The airport has said getting products to Heathrow quickly and having access to a thriving supply chain are critical to a bidder's chances.
Later this month Heathrow will begin a series of roadshows about the idea of off-site hubs, calling in at Exeter, Liverpool, Cardiff, Gateshead, Edinburgh and Derby.
The news came as Aecom's UK and Ireland boss Patrick Flaherty told Building the Brexit vote had strengthened the case for investing in off-site operations to offset an expected "exodus" of construction workers.