Infrastructure client outlines 24 new projects to upgrade South East motorways and A roads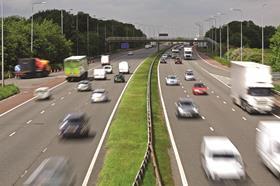 Highways England has met with suppliers to outline how it will spend £2.2bn by 2020 on improving roads in the South-east.
The investment will see improvements and repairs along 24 motorways and A roads in the region between now and 2021, and is part of the government's 'Road Investment Strategy' to triple levels of spending on roads by the end of the decade, which was announced last year.
Work will start on 24 new major projects by 2020, in addition to upgrades currently underway on the M3, A21 and M25 at junction 30.
Roads minister Andrew Jones said: "The government has a long term plan to secure the country's economic future.
"This £2.2 billion investment in the region's roads will directly benefit hardworking families across the South East."
Ken Simmonds, Highways England's major projects director for the south, said: "These schemes will bring significant long-term benefits to road users on motorways and major A roads in the South East, as well as to local residents and the economy as a whole."
Upgrades to South East road network:
enhancing capacity on the M3 between Winchester and Southampton
enhancing capacity on the M27 between Southampton and Fareham
upgrading the M20 near Maidstone to a smart motorway
upgrading the M4 to a smart motorway between Reading and the M25
tackling congestion on the A21 between Tonbridge and Pembury
upgrading the A27 in Sussex
improving junctions on the A2 near Bean and Ebbslfeet
improving the A34 between the M4 and M40
increasing capacity on the M2 between Sittingbourne and Maidstone
improving junctions on the M3 near Winchester
improving the M27 and M271 near Southampton
tackling delays on the A31 near Ringwood in Hampshire
improving access to the A12 and A3 from the M25
upgrading the M25 to the latest generation of smart motorway, with five lanes between the M40 and Chertsey
developing plans to reduce congestion on the A3 near Guildford
developing plans for an additional Lower Thames Crossing