Pre-tax profit increases threefold in move from social to private housebuilding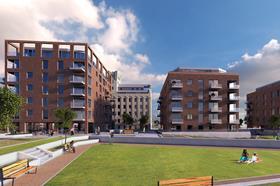 Turnover fell 15% at construction group Hill in 2012 at a time when it is transforming itself into a 1,000-home-a-year private housebuilder.
The firm, which currently gets most of its revenue from social housing construction in the South-east, saw turnover fall for 2012 to £154m, generating a pre-tax profit of £7.3m, down 9% on 2011.
However, turnover at the company's private housebuilding subsidiary Hill Residential more than doubled, from £17m to £38.4m in 2012, under a strategy designed to turn the company into a major regional housebuilder.
Likewise, Hill Residential's pre-tax profit increased more than threefold, from £1.6m to £5.5m.
Last year the firm set itself on a course to build a £450m-turnover business by 2016, of which over 50% would be from developing private housing. If successful, the group would develop up to 1,000 homes for private sale each year, on top of up to 2,000 homes constructed for social landlords.
It's a planned changeover so we're more in control of our workstreams

Andy Hill, Hill
Chief executive Andy Hill said the firm was on course to see revenue from the residential business triple in 2013, to about £96m as it delivers on its promise to grow the business.
The firm is nearing completion on its biggest private sale scheme to date, a 150-unit scheme next to Cambridge rail station called Ceres CB1, which it says is 85% pre-sold.
Meanwhile, the firm's contracting revenues continued to suffer in the current market, with turnover at Hill Partnerships falling by almost £40m to £140m.
In the firm's accounts it blamed the fall on a downturn that was "largely as a result of the cyclical nature of funding within the affordable housing sector."
Affordable housing starts across England were down 22.5% in 2012 on the previous year but have started to recover in the first quarter of 2013.
Hill's accounts said: "Turnover activity levels are once more forecast to increase as a result of many new contract awards in [2012]."
Andy Hill said he was not concerned by the drop in turnover, and the move to private housing was designed to release the business from the cyclical nature of the funding for social housing.
He said: "It's a planned changeover so we're more in control of our workstreams.
We're very much on track with our expansion plan."