HOK unveils designs for a new research and science campus for electronics giant LG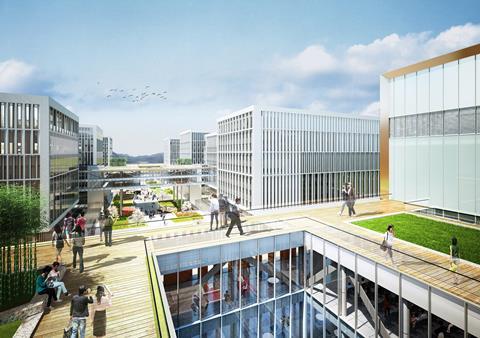 HOK has unveiled its designs for a new research and science campus in Seoul for electronics giant LG.
Called the LG Science Park, the complex will be built in the South Korean capital's Magok district and will provide facilities to support research and industrial prototyping.
The 1.1 million sq m park will house employees from 10 different LG companies.
Each LG affiliate has its own main entrance and lobby while at the lower ground level, there is dining space for 11,000 people. The campus also includes parking for 4,200 cars.
HOK is carrying out the work in association with local practices Gansam Architects and Chang-Jo Architecture.
The scheme also includes exhibition and conference facilities, sports and recreation facilities, a children's nursery, a VIP suite and office space. Technologies such as algae panels and footfall harvesting to generate power are being used as well. Flat roof surfaces accommodate photovoltaic panels and vegetated roofs, whilst ground-source heat pumps provide heating and cooling.