Ed Miliband attacks developers for hoarding land in latest party political broadcast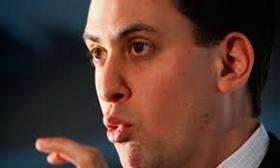 Housebuilders have hit back at Ed Miliband's latest attack on developers who hoard land, claiming that housebuilders "do not land bank".
In Labour's latest party political broadcast (see below), Ed Miliband sets out his vision for boosting housebuilding, including a target to be building as many homes as necessary to meet demand within the next 10 years
But he also launched a fresh attack on developers who he claimed were hoarding land.
He said: "Our ten-year aim for the county is to build as many homes as the country needs - now we haven't done that for 50 years so that is incredibly ambitious.
"We've got to break the power of the big developers, because they're sitting on hundreds of thousands of places for homes with planning permission and they're not building because they're waiting for it to accumulate in value
"And we're going to get tough with them and say you can't just sit on the land, government's got to make them do their bit."
But the Home Builders Federation (HBF) hit back at the land hoarding claims, saying independent studies, including most recently by the Office of Fair Trading, all had concluded that housebuilders "do not land bank".
The HBF added that a recent survey of the larger housebuilders that it carried out found that only 4% of plots with an implementable planning permissions were on sites where production had not yet started.
In a statement the HBF said: "Housebuilders completely reject the accusation that they hoard land that is capable of providing new homes .
"The country faces a housing crisis that will take a collective effort to solve.
"It is unhelpful when political rhetoric centres on myths when the real challenge is how we increase housing supply.
"If we are to meet the new ambitious targets all parties are agreed are required, politicians need to work with the house building industry to address the constraints on housing supply."