Treasury to look at use of state guarantees for infrastructure and housing projects as latest housing figures reveal 11% fall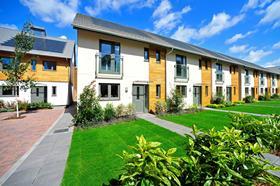 Homebuilding slumped 11% in the first quarter of the year, with housing associations starts plunging 21%, official figures have revealed.
The figures came as the prime minister used his speech on the economy to indicate he had asked Treasury to look at the possibility of using state guarantees to boost investment in housing and infrastructure.
The Department for Communities & Local Government housing figures for the period from January to March showed the number of housing starts fell 11% to 24,140 on the previous quarter - a drop of 15% on the same period in 2011.
The fall in housing association starts was even deeper, with a drop of 21% to 3,950 compared to the previous quarter and a 40% fall compared to the first quarter of 2011.
Jack Dromey, Labour's shadow housing minister said the figures were further evidence of the government's failure to "get to grip with the housing crisis".
He said: "[Housing minister] Grant Shapps said in opposition that headlines were easy but that it was much harder to build homes. As housing minister he has been true to his word, great at sending press releases but dreadful at building homes".
Shapps said the government was "laying the foundations for further growth".
Yesterday in a speech to the Institute of Directors, David Cameron said he had asked the Treasury to consider using state guarantees to "boost credit for business, housing and infrastructure". The move could see the government guaranteeing the risk for specific projects, enabling the private sector to raise finance more cheaply and thereby boosting investment without adding to public spending.
The prime minister said using guarantees was a way of using the "hard-won credibility of the government's balance sheet to help the economy grow without adding even further to our debt".
National Housing Federation chief executive David Orr said "bold and decisive action" was needed to fix the "broken housing market".
"We are pleased that the prime minister has now asked the Treasury to examine what more can be done to boost credit for business, housing and infrastructure," he added.
Meanwhile, figures released by the Home Builders Federation yesterday showed that 400 people have made reservations through the Newbuy mortgage guarantee scheme during its first nine weeks of operation.
This is after a sluggish start to the scheme with lenders not signing up as quickly as had been expected.