Number of housing starts fell below 100,000 last year, less than two fifths the amount needed to meet demand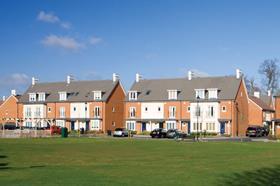 The number of new housing starts in England fell below 100,000 last year, less than two fifths the amount needed to meet demand, with the overall figure down 10% on the previous year, the latest official figures have shown.
The Department for Communities and Local Government's housing figures for the final quarter of 2012 showed that there were 98,280 housing starts in England in 2012, down by 11% compared with 2011.
Annual housing completions in England totalled 115,620 in 2012, 1% higher than in 2011.
The figures showed that there were 26,830 housing starts in the final quarter, up 1% on the previous quarter.
Private sector housing starts were 2% higher in the fourth quarter 2012 than the previous quarter, while starts by housing associations were 10% lower.
Simon Rubinsohn, RICS chief economist, said the latest figures demonstrated the "scale of the problem facing the country in delivering sufficient homes to accommodate a rising population".
He said: "In the final three months of last year, less than 27,000 new houses were started in England alone, leaving the final figure for the whole of 2012 below 100,000.
"Weakness was visible in all sectors although the biggest decline was from housing associations which saw a drop in starts of more than 20%.
He said RICS expected starts to increase to around 115,000 this year. which was "way short of need".
Ian Fletcher, director of policy at the British Property Federation, said: "Against the backdrop of these figures we need to seriously think about how we're going to build the homes this country needs to meet growing demand.
"As things stand the owner occupied model just isn't delivering the required numbers, and we need to focus on a range of options.
"To improve overall housing supply it needs to be affordable, does not require access to mortgage finance and not put undue strain on tight public finances. An institutional-funded professional rented sector, building to let, ticks all these boxes."
Jack Dromey, Labour's shadow housing minister, said: "Nearly 18 months on from David Cameron's promise to 'get Britain building', it's clear he is failing.
"This Government's failing housing and economic policies are depriving millions of people of a decent home. Young families are locked out of home ownership. Too many are struggling with the choice between paying rent and feeding their families because rents have soared. Too many people presenting as homeless, staying in bed and breakfast and sleeping on our streets. And too many building workers on the dole and young people out of work desperate for an apprenticeship.
"The Government needs to take urgent action to kick-start the economy now, building affordable homes and creating thousands of jobs and apprenticeships which Labour has been calling for."