Government gave green light to £12bn worth of jobs earlier this month
HS2 has tweaked its contracts with its main civils contractors to account for problems caused by the covid-19 pandemic.
Earlier this month, the government told HS2 it can issue notice to proceed orders to the four main civils works contractors on the route between London and Birmingham.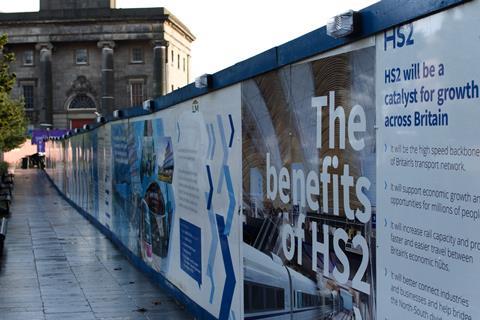 HS2 minister Andrew Stephenson said the contracts included clauses to take into account the impact of the coronavirus pandemic.
Stephenson said: "In the run up to notice to proceed, at which point the covid-19 outbreak materially impacted operations, the contracting structures negotiated with the joint venture organisations were moderated to recognise the event."
He was responding to a written question from Tory MP Cheryl Gillan, an opponent of the scheme whose Chilterns constituency the line will run through, who asked what assurances were sought from each of the companies that their financial position was not at risk as a result of the covid-19 outbreak.
The four joint ventures working on the civils schemes, worth £12bn in total, are SCS Railways, which is made up of Skanska, Costain and Austrian tunnelling contractor Strabag, the Align JV, a team made up of Bouygues, VolkerFitzpatrick and Sir Robert McAlpine, EKFB JV, made up of Eiffage, Kier and Ferrovial Bam Nuttall, and BBV JV, a team featuring Balfour Beatty and Vinci.
Stephenson also said HS2 was working with its suppliers to assess both the cost and time ramifications of the pandemic.
He said: "We will update parliament on the impact on schedule and cost in due course once the restrictions have been lifted and the impact can be properly assessed."
Stephenson said the current schedule and cost estimates contained contingencies to address these impacts.
Last week, the £570m plan for the HS2 station at Curzon Street in Birmingham was given the green light by the city council.