Move comes after Nottinghamshire and Leeds demand "iconic" stations to be built in their cities in return for supporting the project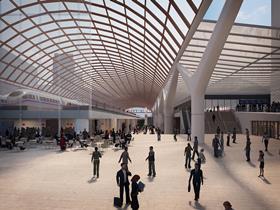 HS2 has committed to put its station and line designs through a full design review process after northern local authorities called for "iconic" stations to be built in their cities.
The commitment comes as Crossrail, which is due to finish construction as HS2 ramps up, is embroiled in a controversy for shunning the use of design review on 27 of its outer London stations.
Architect Richard Rogers has said poor quality station design could "scar communities" for "a century".
In the last week, Nottinghamshire and Leeds councils, both set for major HS2 station developments, have said the design quality of the stations will be a key component in HS2 gaining their full support.
The South Yorkshire Passenger Transport Executive, the key public body overseeing the development of the Sheffield station, said it also had "similar ambitions" to its neighbouring authorities.
Ben Ruse, HS2 spokesperson, said the £43bn project had a "unique opportunity" to design the line and stations in a way that demonstrated "architectural integrity and aspiration".
He said: "To help us to achieve this we are commissioning an independent design review panel to act as an advisory and critical body in achieving the design vision for HS2.
"The panel will review all aspects of HS2's design, including the stations for phase one and two of the scheme."
RIBA President Stephen Hodder, who has criticised Crossrail's decision not to go through a design review of its outer stations, praised HS2's commitment.
He said: "Britain's Victorian railways were once the envy of the world, fusing cutting edge engineering and stunning architecture with a civic vision of progress and prosperity… Victorian Britain didn't achieve so much without harnessing the knowledge, expertise and vision of skilled practitioners at the very top of their game and in the modern-day design, planning and development process, design review can ensure we do the same."
He added that a design review process would "ensure value for money for the taxpayer" and "maximise every opportunity to innovate".
Architect and Labour peer Richard Rogers praised the use of design review. "Firstly it [the project with design review] shouldn't cost more, it should work better and it should look better and we all enjoy something that looks good," he said.