Construction headquarters for massive infrastructure project will be home to 1,500 staff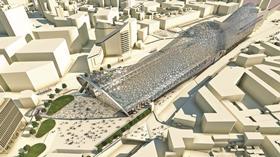 The construction headquarters for the £43bn HS2 rail line will be in Birmingham.
Client HS2 Ltd today said the office would be home to up to 1,500 staff, including engineers and designers responsible for track, signalling and station plans and support staff.
The organisation added some of the jobs would be transferred from London, but there would also be many new roles.
The new headquarters is expected to open in 2015.
Leader of Birmingham City Council, Sir Albert Bore, said: "Since the industrial revolution, Birmingham has been a national capital for engineering, so it is only natural that the HS2 construction HQ be based in Birmingham."
Birmingham City Council also announced it would create a new urban regeneration company to lead the redevelopment around Curzon Street station, which will become the Birmingham hub for the first phase of HS2.
The Curzon Street area will be redeveloped into a 141 hectare mixed-use development, including offices, a hotel and around 2,000 homes.
The Greater Birmingham and Solihull Local Enterprise Partnership (LEP) said it would invest £30m to support the plans.
Earlier this month, the LEP was awarded more than £350m over three years from the government, with funding earmarked for projects including a metro tram line extension, and a construction training centre in Dudley.
HS2 chairman David Higgins said: "The lasting impact of HS2 will, in the end, be determined by how successfully local authorities and regions use it as a catalyst to transform and develop not just their economies, but also the look and feel of the areas it touches.
"The Birmingham Curzon Urban Regeneration Company will, therefore, be hugely important both for Birmingham and the rest of the West Midlands, and also as an example to the rest of the cities along the route. "