Inflation has had 'significant' impact on project
The boss of HS2 Ltd has admitted the firm is exploring the possibility of delays to the delivery of the rail megaproject with the government.
It follows repeated reports that major cuts and delays are being considered by ministers, despite reassurances in last autumn's budget.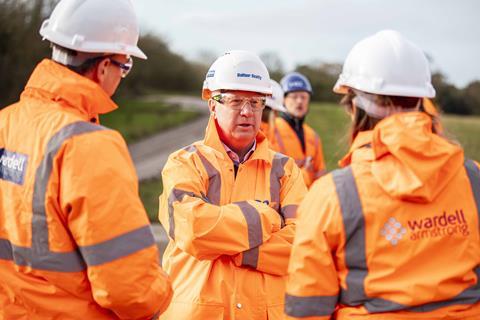 The toll of the past year's inflation on the project has been "significant", Thurston told the BBC, with the prices of timber, steel, aggregates, labour and energy costs all rising.
According to the most recent six-monthly update to parliament, the first phase of the scheme is unlikely to meet its £40.3bn target cost.
"We're looking at the timing of the project, the phasing of the project, we're looking at where we can use our supply chain to secure a lot of those things that are costing us more through inflation," he added.
Thurston said delays did not "typically" save money in the long run but said HS2 Ltd was "looking at a number of options with the Department of Transport (DfT)".
Last month it was reported that the DfT was set to commission HS2 Ltd to take over two internal government probes to examine the schemes.
Project Silverlight and Project Blue Diamond, respectively set up to find efficiencies in the project's first phase and across the entire job, will be superseded by the new review, which is thought to be considering cuts as well as delays.
>> This one looks set to run and run: the continuing angst of HS2 and its budget of billions
>> The longest job: Building the Colne Valley viaduct
>> Should the scope of HS2 be cut to save money?
Options on the table reportedly include scrapping what remains of HS2 East or cutting the new link from Crewe to Manchester, instead running high-speed trains on existing tracks.
Despite the job having already been subject to successive cuts – with the link to Leeds axed in the 2021 Integrated Rail Plan and plans for the new Euston station reduced in scope from 11 platforms to 10 – some have forecast the eventual cost of the project to hit £100bn with current costs thought to be around £70bn.