Lord Berkeley complains Oakervee report has not looked at alternative options to line
The former deputy chair of the group looking into whether HS2 should be built or not has said the cost of the scheme is now over £100bn.
Labour peer Lord Berkeley, who was appointed second-in-command of the review being led by Doug Oakervee, made the claim in a letter he sent Oakervee 24 hours before the review's draft report was leaked to a national newspaper on Tuesday.
That draft makes clear its support for building HS2 and keeping its London terminus at Euston, rather than shifting it west to Old Oak Common – an idea rubbished by London mayor Sadiq Khan and outgoing Transport for London commissioner Mike Brown.
But Berkeley said senior HS2 management had admitted the official cost of £56bn was wrong as far back as autumn 2016 and that "a figure of at least £84[bn] to £86bn was accepted within HS2 Ltd higher management in autumn/winter 2016".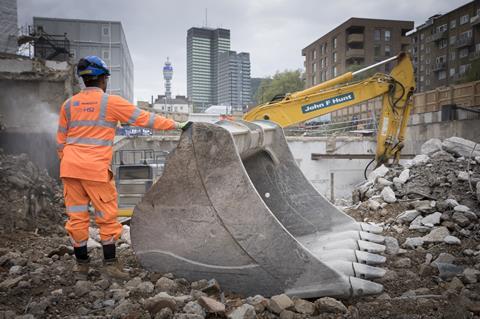 In his letter, which he has now made public following the leak, Berkeley said the £103bn cost put on the railway by consultant Michael Byng, who wrote Network Rail's guidelines on how to estimate costs, should now be accepted as the most realistic figure.
Berkeley said he had offered to bring in Byng to make a "proper comparison" of the costs being made by HS2 and its critics but claimed that "officials prevented this from being done on the spurious excuse that Michael was representing [anti-HS2] petitioners".
And he questioned whether those in charge of the railway would ever get a grip on spiralling costs.
"The company's track record in controlling costs is very bad," he said. "Starting at £32bn in 2011 to £103bn today. This is an increase of 221%. Compare this with the criticism of Crossrail which is 'only' 25% over budget."
He said the review itself had been hampered by a "reluctance" from officials to look more closely at the costs of the job and "long delays in arranging meetings with HS2".
And he suggested the review had in mind all along to green light the project. "I detected a trend in many of the discussions within the review to accept that HS2 will go ahead, so that every effort should be made to minimise costs and maximise revenue, rather than look at the pros and cons of alternative options."
In the summer, HS2 chairman Allan Cook admitted that while the budget remined at £56bn the cost of the railway was now more like £88bn.
The price has jumped because of increased ground costs after HS2 was able to carry out a detailed geological survey of the route from London to Birmingham once it was given access to private land following its approval.
Oakervee's review is unlikely to see the light of day until next year because of next month's general election.
Berkeley said he was mulling whether to publish his own, alternative review.
HS2 declined to comment.