Latest report and accounts show highest paid executive was boss Mark Thurston with £600k salary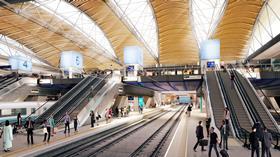 HS2 Ltd made more than £1m in redundancy payments last year, its latest report and accounts reveal.
The company tasked with building the high-speed rail between London and Birmingham made 49 redundancy payments amounting to £1.3m in the year to March 2018.
They included compulsory redundancies and 'other departures' which included three payments of £95,000 or more. In 2016/17, the firm made 37 payments totalling £1.2m.
HS2 increased staff numbers by 4% last year to 1,350 and has reduced the number of staff working out of London where it was previously based in Westminster and Canary Wharf.
Most of HS2's staff in the capital are now working out of new office called The Podium, next door to Euston station, where the main terminus (pictured) for the route in London will be, as well as offices in Birmingham including its main office at Snow Hill.
The report shows that it made 15 relocation payments, including one of £50,000 or more, totalling £167,000 in the year to March 2018.
The accounts show that the highest paid executive was chief executive Mark Thurston, who picked up £600,000 – although the accounts show Alison Munro, who stepped down as managing director of phase two of the project last September, was the only executive to pick up a bonus, being paid £23,333 on top of her £69,000 salary. Outgoing chairman David Higgins, who steps down at the end of this month, was paid £240,000.
The report also revealed that HS2 was the victim of three attempts of fraud – including a fraudulent application for HS2 Ltd to purchase a £1 million property under the Need to Sell scheme.
Need to Sell is a compensation scheme set up by the government if homeowners "have a 'compelling reason' to sell but can't as a direct result of the announcement of the HS2 route".