Latest update also admits protestors have now cost project up to £80m
HS2's Euston station will be downsized from 11 to 10 platforms, the government has confirmed.
The railway's central London terminus has been changed to a "less complex, more efficient" design, HS2 minister Andrew Stephenson said in the project's latest six-monthly report.
It follows an order by the Department of Transport in February to look at rejigging the station to reduce costs and save construction time.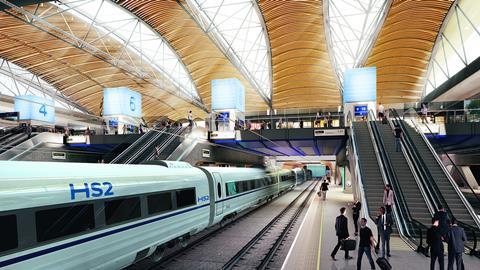 The redesign means that the station, which is being built by a JV between Mace and Dragados, can be built in a single stage rather than two stages as originally proposed.
Stephenson said the station will still be able to support the full operation of the HS2 network, serving 17 trains an hour as set out in the full business case for the £44.6bn first phase of the railway.
He added that £400m of potential added costs for the station job outlined in the last six-monthly report still remain but are now expected to be reduced as the new station design is developed over the coming months.
The report also revealed that around £600m in cost issues have emerged for "slower than expected" mobilisation of main works civils contractors for phase one.
The delays were attributed to enabling works handovers, design approvals and securing planning consents.
And there has been a further £150m potential cost increase for works on the existing Euston network that are required for the new HS2 station.
In total, cost pressures on the railway have increased by some £500m since the last report and now stand at £1.3bn.
This is still within the project's £5.6bn contingency fund, of which around £800m has already been spent, leaving a remaining £4.8bn.
To date, out of the phase one target cost of £40.3bn, £12.9bn has been spent, with an additional £1bn for land and property provisions. A further £12.4bn has been contracted, with the remaining amount not yet under contract or drawn as contingency.
Meanwhile, the report said environmental protestors have now cost the railway up to £80m, adding that some protestors had turned to "violent and aggressive behaviour, particularly against HS2 Ltd's supply chain".
The government is taking steps to ensure that illegal protestor activity is "properly dealt with" and that safety risks are minimised, the report said.
Stephenson said phase one was still on schedule to open to passengers between 2029 and 2033, with phase 2a from Birmingham to Crewe expected to open between 2030 and 2034.