Chancellor also announces launch of first competition to design small modular reactors
The government will spend £20bn on development of carbon capture and storage (CCUS) schemes across the UK, chancellor Jeremy Hunt revealed in today's budget.
A shortlist of projects for an initial phase of CCUS deployment will be announced later this month and will focus on the North-east and North-west coast of England and North Wales, Hunt said.
CCUS plants capture carbon emissions from industrial processes and remove them from the atmosphere by burying the gas in geological formations beneath the seabed.
Ministers say expanding CCUS will help meet the UK's net zero targets while allowing heavy industries to continue operating. It is also an important enabler of hydrogen, a clean energy source which emits only water when burned but emits large amounts of carbon during production.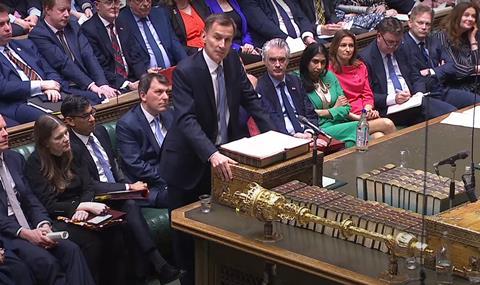 The government's decision to back CCUS will be seen as a vote of confidence in hydrogen as a future source of energy which can be used to power homes alongside other fossil fuel alternatives such as heat pumps.
Hunt said further projects will enter a selection process for a first phase launching this year, with two additional CCUS clusters to be selected in a second phase.
The chancellor also launched Great British Nuclear (GBN), a new body first announced last year which will support the development of both small and large nuclear projects.
The move was welcomed by the Civil Engineering Contractors Association (CECA), which said it will envourage private sector investment in nuclear schemes.
But CECA operations director Marie-Claude Hemming said it must "herald a new era" in which the ambition of expanding nuclear power translates from "words to action".
Hunt said the initial focus of GBN will be on small modular reactors, with the first staged competition to be launched by the end of this year.
He said the competition is expected to "attract the best designs from both domestic and international vendors", with the government to co-fund the plants if the designs are considered viable.
Gigawatt-scale reactors will also be considered "subject to value for money, relevant approvals and technology readiness and maturity", Hunt added.
Other energy announcements today include an extension of the energy price cap by three months to the end of June. The scheme, which limits annual energy bills to £2,500 a year, had been due to end on 1 April and increase to a cap of £3,000 a year, with the higher bills now set to start from 1 July.
The announcements have been criticised by some industry quarters, including climate charity Ashden, for making no mention of increased support for energy efficiency measrues or improving green retrofit skills.
Ashden cities manager Cara Jenkinson described the budget as a "terrible wasted opportunity", adding that Hunt's "thinking needs a rapid upgrade, just like 19 million homes in the UK that need retrofitting."
"By laying out measures to boost retrofit demand and creating a generation of skilled retrofit workers, he could have not only generated savings for struggling households, but also given businesses the confidence needed to generate over 200,000 new energy efficiency jobs," she said.
While Construction Products Association econonomics director Noble Francis welcomed the investment in CCUS, he said the key measure of the budget will be whetehr the government "can actually deliver on its announcements" in light of recently announced delays to HS2.