US artist working with Adjaye Associates
The first images of Theaster Gates' 2022 Serpentine Pavilion has been released ahead of it opening this summer.
It is set to be the tallest pavilion yet, with a 10.7m form, rendered mostly in timber, said to have been inspired by the kilns of Stoke-on-Trent.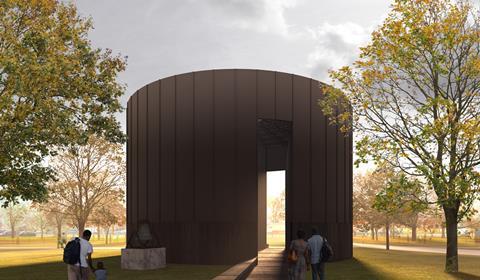 Gates, who is a professor at the department of visual arts at the University of Chicago, is an urban planner and sculptor by training whose artistic interests take in ceramics as well as urban intervention, installation, performance and religion.
He was announced as the designer of the 21st Serpentine Pavilion last year and is working with Adjaye Associates on the scheme. Aecom is engineer and project manager on the job.
Gates said the pavilion, called Black Chapel, would pay homage to British craft and manufacturing traditions.
A bell taken from the Chicago South Side's demolished St Laurence Church will be placed next to the pavilion entrance and rung to announce performances and other activities.
Black Chapel will open on 10 June.