Easier access for construction workers needed for "struggling" firms, says FMB boss
The industry has called on the government to let construction workers stay in the UK for longer as the backlash to Priti Patel's new immigration laws heats up.
Federation of Master Builders (FMB) chief executive Brian Berry has said that temporary visas for construction workers the government deems unskilled workers need to be lengthened.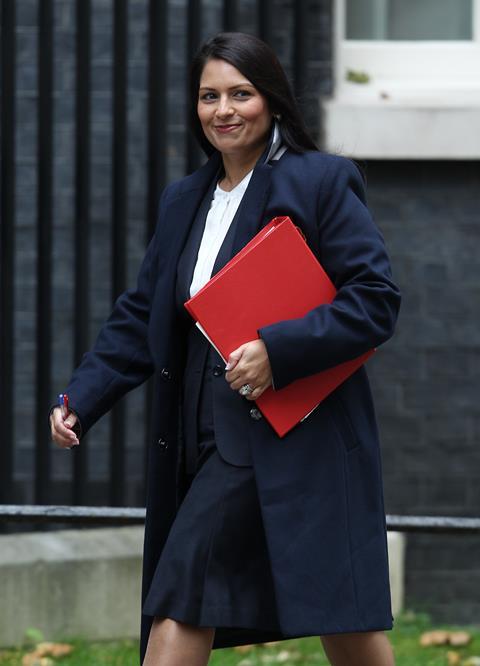 He said: "[The visas] should be extended from one year to two and these workers should be able to transition to a skilled visa if they meet the requirements at the end of this period.
"There is also the need to reform the cost and paperwork required for visas, to ensure that it works for SMEs."
The home secretary (pictured) warned ministers at Tuesday's cabinet meeting that the new points-based immigration system after Brexit will feature no "carve-outs," with no guarantee that low-skilled workers will be able to enter the UK.
A cabinet source told The Times that Patel "was arguing for a much clearer immigration rules-based system. She doesn't want a system with carve-outs all over the place."
The new rules are now taking shape following Boris Johnson's comments during the December election campaign where he said that migrants post-Brexit would be sorted into three categories: exceptionally talented people such as "nuclear physicists," who would be granted free entry, skilled workers, who could settle if they had a job, and unskilled workers who would only be granted short-term visas in sectors with skills shortages.
The new rules are causing increasing concern in the construction industry as fears grow that firms will struggle to hire enough workers. Over 30% of the construction workforce in London are EU nationals according to the latest ONS figures.
Berry said the new system "should be based on industry need rather than any arbitrary definition of skill. Many of the roles in the construction industry that businesses are struggling to hire such as bricklayers and carpenters, do not meet the current definition of skills, and would prove difficult to recruit from outside the UK."
The Migration Advisory Committee will publish a report next week detailing how the new rules will work ahead of a government white paper due in March.