New measures good for housebuilders, Andy Mitchell says, but adds their impact will be mixed
The chairman of the Construction Leadership Council has said the government's decision to relax the 2m social distancing rules will benefit housebuilders and smaller sites – but warned the industry the restrictions will not disappear overnight.
Firms have been struggling to get productivity on sites up to pre-covid levels as companies have been asked to stick to strict social distancing protocols.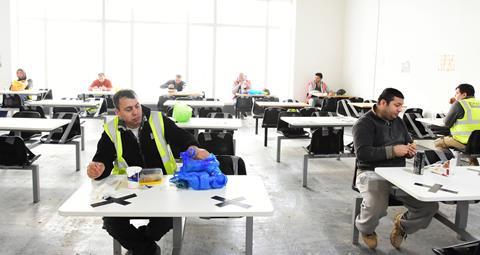 One leading London developer told Building its sites were only operating at 50% while one major contractor said getting levels above 80% was proving to be a sticking point.
"Getting up to 80% is straightforward enough, we can see a way to do it, but above that is really difficult. It requires investment, double shift patterns, making canteens bigger. The logistics of it all requires a hefty outlay."
Yesterday, the government announced a series of measures which will see the current 2m rule relaxed to 1m from 4 July.
While pubs, restaurants and hairdressers will be allowed to reopen, CLC boss Andy Mitchell said the further easing of lockdown measures would only have a mixed effect for the industry.
"Housing and smaller building works, where you don't have the space in the first place, the 2m rule makes things a lot more difficult. This will open up more work types that they can do. I think we've got to welcome it because it's bound to help."
But he warned the protocols firms have spent weeks putting together will be here for months to come.
He added: "Are these rules going to disappear overnight? No. Are they with us for some time to come? For sure they are."
Yesterday, Prof Chris Whitty, the government's chief medical adviser, warned: "If people hear a distorted version of what's being said, that says 'this is all fine now, it's gone away' and start behaving in ways that they normally would have before this virus happened, yes, we will get an uptick [in cases] for sure."
Mitchell said construction should not expect any special treatment from the government over further relaxing of social distancing guidelines – with people still being told to stay 2m apart "where possible".
"I can't see why someone in the construction industry is treated differently to any other industry," Mitchell said. "How can you have once stance for one industry and a different one for another?"
Meanwhile, Mitchell said the industry should stick together – and not revert to bad practices as contract disputes inevitably arose from the coronavirus crisis.
Typical issues have centred on extension of time, who forks out for the extra cost of implementing social distancing procedures and who foots the bill when a job busts its deadline.
Mitchell, who is also boss of the Thames Tideway super sewer project, said: "No-one's going to win if we resort to conflict or resort to practices that are going to hurt other people."
But he admitted his words might fall on deaf ears: "It's all very well to take a high-minded stance on that but when firms are on the brink of going under it's not always easy to do the right thing. As the reality continues, I can understand why it's getting to be tough for people to continue doing the right thing."
More firms this week have announced redundancy programmes with Norwich contractor RG Carter and Birmingham demolition firm Coleman saying they were cutting jobs because of the slowdown caused by the covid-19 outbreak.