Idea being drawn up in response to new immigration rules
The construction sector has begun working on plans to get workers from Europe who do not meet the criteria for planned immigration rules into the country once the UK finally leaves the EU.
The UK is due to leave the bloc tonight with the country then switching to a transition period which runs out at the end of this year.
All EU workers currently have the right to work in the UK, with many doing so on a self-employed basis. Over 40% of the construction workforce is self-employed.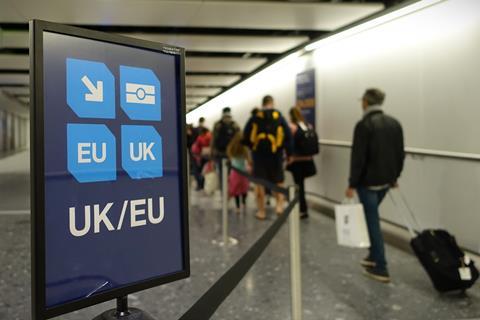 But new rules proposed by the migration advisory committee (MAC) this week would mean only migrants with a job and salary of more than £25,600 could settle in the UK. Those looking to come without a job would be required to apply for a visa on a points-based system.
Now Building can reveal that the Construction Leadership Council (CLC) is among several industry groups that has started drawing up plans to set up a "clearing house" system to bring in self-employed workers who would otherwise be excluded under the new rules.
Simon Rawlinson, head of strategy at the CLC, said: "In order for the MAC proposals to work under the current industry model of flexible employment, there will need to be a 'clearing house' that brings overseas-sourced skilled labour into the UK on behalf of UK construction businesses."
He added: "Under the scheme proposed by MAC, these workers would need to be directly employed."
The MAC said construction would be among the sectors hit hardest by the proposed immigration system, warning that the relatively high share of EU migrants in the construction workforce could lead to a UK-wide drop in employment of up to 8%.
Rawlinson admitted that there were "many challenging questions that will need to be addressed to make a clearing-house proposal work" and added: "My understanding is that it is at a very early stage of development."
He said that firms needed to study the MAC's proposals: "Well-managed construction firms will have to consider now what changes they will have to make to be able to access the skills they need."
Responding to the MAC proposals, Marie-Claude Hemming, the Civil Engineering Contractors Association's director of external affairs, raised concerns that the so-called shortage occupation list, which includes construction, would not be reviewed until a new migration system was well-established.
Tom Hadley, director of policy at the Recruitment and Employment Confederation, criticised the report for failing to recommend temporary visas to help address skills shortages. He said that the salary threshold should be lowered further.