A £450m investment could lead to smarter trains - and more of them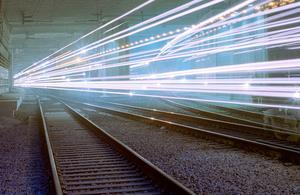 Infrastructure firms have welcomed the government's plans for all new trains and signalling being digital or digital ready from 2019 in what ministers say will be a £450m investment programme.
Announcing the new strategy Transport Secretary Chris Grayling said the new digital technology would safely allow more trains to run an hour by running trains closer together, cut delays by allowing trains to get moving more rapidly after disruption and boost mobile and wi-fi connectivity.
"We are investing in the biggest modernisation of our railway since Victorian times to deliver what passengers want to see, namely faster, more reliable and more comfortable journeys," he added.
Richard Robinson, chief executive of Aecom's civil infrastructure arm, said after years of industry wrestling with the productivity gap, the time had come to "embrace digital innovation and take the necessary step forwards to accelerate delivery".
But he warned that for the full benefit of such a transformation to be realised major enhancement investment in the railway must continue, including from the private sector.
"We look forward to hearing how this announcement aligns with the government's ambitions for increased third party investment," he said.
And Peter Selway, rail segment leader at France-headquartered power specialist Schneider Electric, said the move, as and when it was fully implemented, could cut delays and boost reliability.
"Some of the greatest benefits of rail digitisation come from real-time data and smart analytics allowing for predictive maintenance. By anticipating outages and problems before they occur, we could be taking preventive action to avoid unnecessary cancellations, improve commuter experience, and cut costs. This is an exciting time for UK rail."