MMC taskforce also planned but worries remain over Brexit's impact
More details about a National Infrastructure Bank and the creation of an MMC taskforce in today's budget have been welcomed by construction – but worries remain about the impact of Brexit on the industry.
The bank, which will be based in Leeds and is in part designed to replace the European Investment Bank (EIB) following the UK's decision to leave the EU at the end of last year, is designed to help bankroll a host of local projects previously helped by the EIB.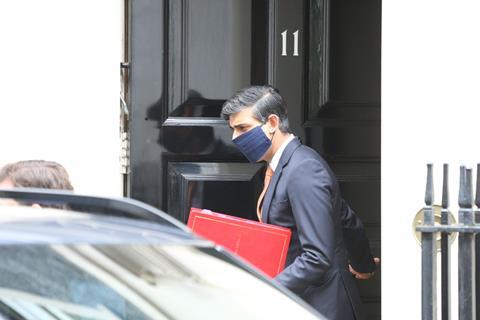 It will launch with a £12bn fund plus a further £10bn in guarantees and, according to budget documents, "will draw capital from HM Treasury and be able to borrow from private markets".
> Also read: Budget 2021 summary: What it means for construction

> Live blog: Budget 2021 as it happened
Chancellor Rishi Sunak said the bank will boost investment and accelerate progress to net-zero carbon, which the chancellor described as a "green industrial revolution".
Sir Robert McAlpine chief executive Paul Hamer said the move was "very good news for construction and the country as a whole" and added: "It's clear that the government has an intent for 'Build Back Better' to be much more than a slogan and to make good on the commitments they made last summer."
But others warned the government not to let the initiative drift. Mace chief executive Mark Reynolds said: "If the National Infrastructure Bank is to succeed, funds need to move quickly; we must focus on ensuring that it is empowered to drive real change in our industry; promoting fairer procurement and innovative approaches to funding and delivery, prioritising 'shovel-worthy' schemes that create sustainable local jobs, reduce carbon emissions and create better outcomes for everyone."
He said the creation of eight freeports – free trade zones where normal tax and tariff rules do not apply – meant there were "very positive signs here for our industry". But he added: "What matters now is how and when these ambitions will be realised at pace."
The new freeports are planned at East Midlands Airport, Felixstowe and Harwich, Humber, Liverpool City Region, Plymouth, Solent, Thames and Teesside
And Scape chief executive Mark Robinson also told the government to hit the accelerator pedal, adding: "There is a pressing need for it to move at speed to generate momentum and create the best conditions for local economic growth and sustainable inward investment."
But Guillaume Fleuti, head of infrastructure and industrials at Lloyds Bank, said the bank needed to hand out the money in a pre-planned way, rather than rush into commitments.
He said: "It's important the bank uses its finite funding in a targeted way. Some areas of infrastructure, such as well-established renewable technology, benefit from strong investor demand, while others are less well served. In this sense the bank can support existing investors and lenders in ensuring that sufficient capital is available through co-investment opportunities."
Elsewhere, news the government is setting up an MMC taskforce to help more homes more quickly has also been welcomed.
It will be backed with £10m of so-called seed funding and will be based at the housing ministry's planned outpost in Wolverhampton.
According to the Treasury, the taskforce will "consist of world-leading experts from across government and industry to fast-track the adoption of modern methods of construction".
But worries remain over the problems following Brexit which have seen exporters hit with paperwork headaches and issues over access to labour as well as markets across the Channel.
Last month, architect Rogers Stirk Harbour & Partners announced it was setting up a base in Paris to ensure it continued to have friction-free access to its work in Europe.
Others are also mulling moves and Dan Hajjar, managing principal at HOK's London arm, said: "The elephant in the room is Brexit and the continuing uncertainty about how professional services firms based in the UK can operate in Europe, including architecture and design practices. The chancellor has missed an opportunity to provide some much-needed guidance on how those affected should be preparing for this transition."
Dominick Veasey, director at Nexus Planning and head of research and analytics, added: "It was disappointing that some of the potential post-Brexit construction sector issues and challenges were not covered more fully – such as availability of EU labourers and ensuring the timely flow of construction products and materials.
"For the construction sector to fully contribute to helping the economy recover and grow, it will be essential for the government to ensure the sector has a ready labour force supply and the construction materials it needs.