Pace of recovery in commercial will be slower, consultant's latest report adds
Infrastructure growth is set to outpace that of building next year, Arcadis has said in its latest report.
The consultant, which this week said it was scaling back its operations in the Middle East, said infrastructure is expected to remain strong with 2%-3% price growth in tender prices per annum next year and 2022.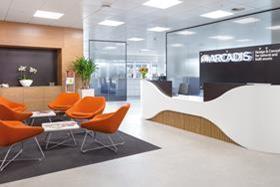 But it warned a slow recovery in the industrial and commercial sectors will see prices continue to fall.
The firm said it was expecting 3% deflation for building tender prices regionally this year, with a 4% drop in London. It said the capital will see a 2% deflation in prices next year.
It said it expected above-trend inflation for all sectors from 2023 onwards, mainly driven by constraints in the labour market.
Simon Rawlinson, head of strategic research at Arcadis, said: "The differences we're seeing in the pace of recovery between sectors underlines the scale of the challenge. Implications include an increase in competition for workload across the buildings sector, as well as a shift of resources towards infrastructure.
"To ensure an ongoing recovery, it's therefore critical for businesses to have strong resiliency measures in place, not just when it comes to managing the second wave of covid-19 and its consequences, but also taking into account the fact that Brexit will be happening simultaneously."