Loft insulation installations have fallen by over 90% while cavity wall installations plummet by 77% after introduction of Green Deal and ECO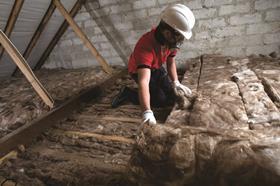 The number of loft insulation installations plummeted by over 90% in 2013, the latest government figures have shown.
The Department of Energy and Climate Change (DECC) figures showed that 1.6 million lofts were insulated in 2012, but in the year to the end of October 2013, the most recent data available, just 110,000 had been treated, which is a pro-rata fall of 93%.
For cavity wall insulation, measures fell from 640,000 in 2012 to 125,000 in the year to October 2013, a pro-rata fall of 77%.
The collapse in installations follows the introduction of the government's Energy Companies Obligation (ECO) and Green Deal schemes at the beginning of 2013.
As revealed by Building in January, the drop of in installations was anticipated in the government's own impact assessments, which estimated that the number of cavity wall insulation installations would drop by 70%, from 510,000 to 170,000 per year, while the number of loft insulation installations would plummet by more than 93%, from over a million to just 70,000.
Responding to the latest figures, Derek Lickorish, chairman of the government's fuel poverty advisory group, told the Guardian that the government must "change direction".
He said: "With a cold winter, rising energy bills and a worrying increase in winter deaths, the plight of the 2.4m households in England struggling with fuel poverty has never been more serious.
"The only sustainable solution to end the misery and health problems of living in a cold home is to improve its energy efficiency through insulation measures.
"The government must change direction."
Lickorish said it was "perverse" that the move to reduce the cost of energy bills announced in the Autumn Statement was achieved largely by cutting energy efficiency schemes.
Labour's shadow energy secretary Caroline Flint told the Guardian: "The best way to cut people's energy bills is to invest in insulation and save the energy that escapes through our windows, walls and rooftops.
"These figures show that not only has David Cameron failed to stop the energy companies from overcharging, the number of households getting help to insulate their homes has also collapsed. This terrible reduction in insulation measures could not have come at a worse time."