Manager at manufacturer Celotex admits marketing of product used in tower's refurbishment was misleading
The insulation panels used as part of Grenfell Tower's flawed refurbishment were being marketed as suitable for use on high rise buildings despite failing a fire test needed to prove they were safe, the inquiry into the June 2017 fire has heard.
The RS5000 panels, manufactured by insulation firm Celotex, didn't pass a key fire test six months before their launch in August 2014, inquiry barrister Richard Millett QC told the inquiry.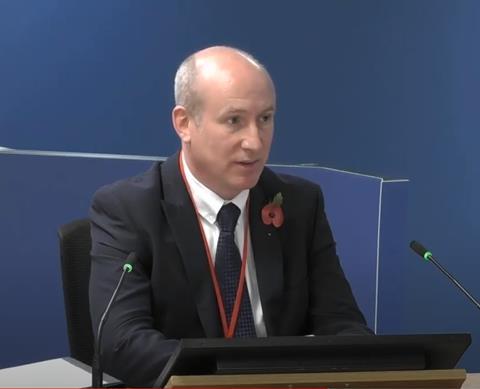 He said the panels had passed a second BS8414 fire test in May that year but this included extra components added to the insulation panels which invalidated the results for use in marketing the panels by themselves.
Despite this, he said Celotex presented the results of this test to clients as evidence of the safety of the panels alone.
Wednesday's hearing was shown marketing material given to Celotex's clients which repeatedly stated that the insulation panels were "suitable for buildings above 18m in height" in what Millett called "almost mantric wording".
Millett said the product was repeatedly advertised as being the first for use on buildings 18m or above in height in promotional brochures.
But the hearing was told that the "extremely important caveat" – that the polyisocyanurate (PIR) insulation had only passed a fire safety test within a specific cladding system, which included fibre cement panels – was not made.
Millett asked major projects and specification manager Jonathan Roome: "Do you accept that those words [in promotional material] were apt to lead the reader to think that Celotex RS5000 was suitable for use in all buildings over 18m in height?"
Roome, who worked for the firm between 2014 and 2015, said: "That would be the case, could be the case, yes."
Millett argued it was "thoroughly misleading", adding: "It's misleading because it doesn't contain the caveat." Roome replied: "Yes."
Roome said he had not been aware while working at the firm that the marketing material he was using to promote the product was incorrect and claimed he had only been shown the full test reports in a meeting with lawyers after the fire at Grenfell tower.
Asked if he ever looked at the test results himself, he said the sales team at Celotex were never given access to the test data, adding: "We were only shown what we were allowed to be shown."
The RS5000 panels were launched to compete with the K15 insulation range produced by rival firm Kingspan, also installed as part of Grenfell Tower's refurbishment.
Marketing material shown to sales teams at Celotex's launch presentation for the new RS5000 panels on 5 August 2014 included a line which appeared to refer to "substantial costs" incurred during the development of the panels.
Roome denied sales teams were under pressure to achieve sales of the insulation to recoup the money it had spent, although he said the firm had offered distributors which stocked the material a chance to win a balloon ride.
The inquiry has already heard that cladding subcontractor Harley eventually received a 47.5% discount on the Celotex panels used in the tower's refurbishment – worth more than £41,000.
A presentation created by Roome in February 2015 indicated the difficulties Celotex had in finding buyers for its new product in the months after its launch.
The slide show, which was shown to a managerial team at Celotex, split the potential customers of the product into three categories – 'no use', 'limited use' and 'use' – based on how likely they were to want to buy the insulation panels.
Reasons for customers being classed as 'use' included being "not aware of [the] 18m restriction". Millett asked if it was true that "the more ignorant of the restrictions above 18m and the less equipped to ask difficult technical questions, the more likely it was that you would be able to achieve sales of RS5000?"
Roome replied: "I wouldn't have put it like that, no", adding: "This was my view of the market, and this was my understanding. It wasn't any sort of sales tool or targeting, it was just my understanding of who was out there."
The inquiry was shown an email sent by Roome to the firm's products manager Debbie Berger in which Roome described how Kingspan was using a British Board of Agrement certificate to market one of its products, while Celotex "don't seem to be able to offer anything other than a carefully worded email".
Millet asked: "Does this tell us at least in general terms that if you don't have a BBA you have to produce carefully worded marketing material or assurances to get around the problem?"
Roome replied: "I think people are looking for evidence full stop."
A later email sent to Roome by Berger asked: "In your opinion Jonathan, and I won't hold you to this, but do you think RS is ready for major projects?"
Module two, the latest stage in the inquiry, is scrutinising the production, testing and sale of the materials used in the tower's revamp which resulted in the fire, killing 72 people.
The inquiry continues.