But analysts play down fears over firm's future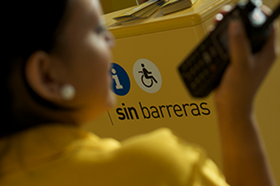 Analysts have played down worries over Interserve after morning reports linked the business with a Cabinet Office financial health check.
The news sent shares tumbling 15% at one stage but they have since recovered to trade at just 4% lower than when the markets opened.
Cenkos analyst Kevin Cammack said the volatility underlined how other quoted firms were being affected by the collapse.
"Morgan Sindall put out a statement to say it wouldn't be impacted and its shares were off 6.5%. I think there's a sentiment-driven reaction that it must be bad for you as well," he said. "There is guilt by association. If you're anything to do with Carillion or look like it, it must make you somewhat tainted."
He said Interserve, which yesterday announced a deal with a Spanish airport operator to provide assistance for passengers around terminals, was not in the same boat as Carillion but admitted: "Interserve is not in a great place although it's a more defendable position. It is a more manageable position on many levels. They have a new management team in place and some tangible business assets which can be sold."
But he added: "What's happened [to Carillion] is not going to make their task any easier. I think the banks will ask for a higher risk premium now [ahead of a refinancing deal]."
And analyst Neil Wilson of ETX Capital said: "Interserve has had its problems for sure but it's no Carillion."
In a note on the firm, he added: "Carillion was facing oblivion as its market cap declined to just £61m against liabilities of around £1.5bn."
Interserve has been forced to issue a string of warnings about its energy-from-waste (EfW) business since problems first emerged 18 months ago and led to the departure of former chief executive Adrian Ringrose last year.
The cost of getting out of the business has ballooned to £195m – although in its latest trading update issued last week the firm cheered investors when it said it hadn't taken any more hits on the five jobs it is still due to complete.
These include its schemes at Glasgow and Derby which use the complex gasification technology to turn rubbish into energy.
In last week's update the firm, which struck a £180m refinancing deal just before Christmas and an agreement with lenders to defer loan repayments until the end of March, said net debt last year stood at £513m and would climb even higher in the first half of this year.
A Cabinet Office spokesperson said: "We monitor the financial health of all of our strategic suppliers, including Interserve. We do not believe that any of our strategic suppliers are in a comparable position to Carillion."