Contractor's Qatar MD tells Building firm will tighten its auditing regime after Guardian allegations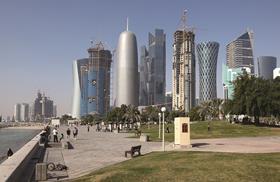 The boss of Interserve's Qatar division has pledged to investigate allegations of abuse of workers in the firm's supply chain and to tighten its auditing regime to ensure all its suppliers are "up to scratch".
Interserve's Qatar managing director Andy Beaney spoke to Building in Doha after the Guardian published a report yesterday claiming workers for an unnamed supplier to Interserve's Qatar joint venture contractor, Gulf Contracting Company (GCC), had faced abuses.
The Guardian said it had spoken to more than a dozen workers who were employed on sites either operated by GCC, or by BK Gulf, a firm co-owned by Balfour Beatty. The alleged abuses included erratic or reduced payment of wages, passport confiscation, workers entering employment with high levels of debt bondage, and pay levels below those agreed when workers were recruited in their home countries.
At least one of the labourers worked for a supplier on Doha Festival City – a retail mall being delivered by GCC in a joint venture – the Guardian claimed.
Both Interserve and Balfour Beatty have pledged to investigate the Guardian's allegations.
Beaney told Building: "Off the back of this Guardian article there's a problem highlighted. We will review all our subcontractors on the Doha Festival City project and make sure they have been audited.
"Interserve takes workers' welfare very seriously. More than 50% of our workforce is directly employed by us and are housed in very good accommodation. But there are some specialist trades where we have to contract in workers.
"We need to make certain our supply chain is up to scratch. We know there are some suppliers in the market that don't have the right accommodation. Last year we introduced an auditing policy for all our labour suppliers. We do a pre-appointment assessment, which involves an inspection of a suppliers' accommodation facilities and a questionnaire addressing welfare standards.
"There are thousands of workers working on Doha Festival City. This is not a representative sample."
An Interserve spokesperson added: "We are fully committed to supporting and protecting the health, safety and welfare of our employees and those working as part of our supply chain.
"We take these allegations extremely seriously and will investigate them thoroughly. If corrective measures are required, we will ensure they are implemented immediately."
A Balfour Beatty spokesperson said: "BK Gulf WLL, in which Balfour Beatty has a 49% share, provides conditions for its workforce which go over and above local regulations and laws.

"Where workload exceeds our directly employed workforce capacity or where specialist skills are required, BK Gulf utilises a selection of labour supply companies.

"BK Gulf requires all of its labour supply companies and subcontractors to meet a selection criteria and code of conduct which includes requirements around operative working conditions. The company actively monitors its supply chain to ensure these standards and criteria are being met.

"BK Gulf takes the claims made by the Guardian very seriously and as a result is currently undertaking a review with the labour supply companies it works with to ensure our standards are being met."