Build UK payment performance table reveals the good, the bad and the ugly
Interserve paid only 17% of its invoices on agreed terms in the six months to 30 July 2018, according to a new table from Build UK which reveals the payment performance of some of the country's largest construction firms and clients.
As well as reporting 83% of invoices not being paid within the agreed time, the contractor, currently bogged down with a delayed hotel and residential scheme in London's West End, took an average of 50 days to pay it suppliers.
Cenkos analyst Kevin Cammack said: "Is it really any surprise when Interserve has pretty much the most stretched balance sheet in the quoted sector today?"
In a statement Interserve said: "We are committed to improving our performance and are currently working in partnership with our construction supply chain to ensure this improvement is realised, part of which is the closure of disputed invoices.
"We have a strong and loyal supply chain who we continue to work with collaboratively achieving many great outcomes for our customers."
Build UK's table of its member firms, featuring data designed to comply with government legislation requiring large firms to report on their payment practices every six months, showed a wide range of payment performance.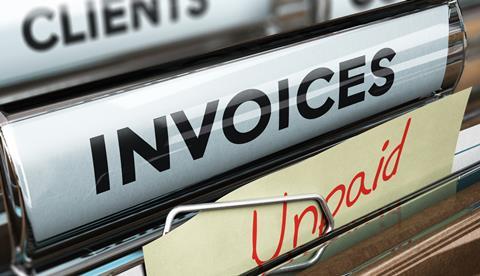 Clients were the most prompt payers, with British Land ahead of the pack on 14 days, followed by Landsec (19 days) and Heathrow (21 days).
The best performing contractor was Scunthorpe-based Clugston, paying its invoices on average within 32 days, while at the other end of the table specialist demolition group Brown & Mason took 103 days.
Build UK said its data was "providing a clear and comprehensive picture of payment across the construction supply chain and the increased level of transparency is the first step towards improving payment performance".
Jo Fautley, Build UK's deputy chief executive, said: "The industry now has access to information on how a range of companies are paying their supply chains which can be used to make more informed decisions about who to work with.
"Changing payment practices that have been embedded within the industry for many years will take time but this issue is now firmly in the spotlight and we have a clear benchmark to measure progress."
Build UK said the majority of its members would report for a second time at the end January 2019, "which will provide an early indication of whether payment practices are improving".
There have been numerous calls for the rules governing payments to be tightened up. The Association of Accounting Technicians recently urged that the government's Prompt Payment Code be made compulsory for companies with more than 250 staff and that payment terms should be halved to 30 days.
The AAT also recommended setting up a financial penalty regime, enforced by the small business commissioner, for persistent late payers.
BUILD UK MEMBERS' PAYMENT PERFORMANCE
| | | | | |
| --- | --- | --- | --- | --- |
| Member Type | Company Name | Percentage (%) of Invoices not paid within agreed terms | Average Time Taken to Pay Invoices (Days) | Date of Duty to Report Submission |
| Specialist - Concrete | | 0 | 45 | 21/09/2018 |
| Specialist - Concrete | | 0 | 55 | 02/07/2018 |
| Contractor | | 1 | 61 | 04/07/2018 |
| Specialist - Ground Engineering | | 4 | 43 | 17/07/2018 |
| Specialist - Steel | | 4 | 49 | 26/07/2018 |
| Client | | 6 | 21 | 30/07/2018 |
| Contractor | | 7 | 44 | 19/07/2018 |
| Client | | 8 | 19 | 16/10/2018 |
| Contractor | | 8 | 33 | 20/07/2018 |
| Contractor | | 8 | 34 | 24/07/2018 |
| Specialist - Concrete | | 8 | 38 | 15/05/2018 |
| Specialist - Demolition | | 8 | 39 | 31/10/2018 |
| Client | | 9 | 14 | 30/10/2018 |
| Client | | 9 | 24 | 30/05/2018 |
| Contractor | | 11 | 41 | 13/07/2018 |
| Specialist - Demolition | | 11 | 47 | 01/06/2018 |
| Contractor | | 13 | 32 | 16/08/2018 |
| Specialist - Ground Engineering | | 15 | 33 | 16/07/2018 |
| Specialist - Demolition | | 16 | 47 | 29/06/2018 |
| Specialist - Steel | | 17 | 46 | 23/10/2018 |
| Contractor | | 19 | 35 | 26/07/2018 |
| Contractor | | 24 | 44 | 27/07/2018 |
| Specialist - Concrete | | 24 | 62 | 26/10/2018 |
| Specialist - Concrete | | 25 | 36 | 30/10/2018 |
| Contractor | | 26 | 47 | 26/07/2018 |
| Specialist - Concrete | | 28 | 61 | 28/10/2018 |
| Specialist - Steel | | 29 | 51 | 30/07/2018 |
| Contractor | | 31 | 40 | 26/07/2018 |
| Contractor | | 36 | 52 | 25/07/2018 |
| Contractor | | 38 | 47 | 26/10/2018 |
| Contractor | | 43 | 45 | 26/07/2018 |
| Contractor | | 44 | 38 | 31/10/2018 |
| Contractor | | 47 | 43 | 26/07/2018 |
| Contractor | | 48 | 42 | 17/07/2018 |
| Contractor | | 48 | 54 | 30/07/2018 |
| Contractor | | 49 | 45 | 26/07/2018 |
| Contractor | | 54 | 54 | 27/07/2018 |
| Professional Service | | 60 | 32 | 29/10/2018 |
| Contractor | | 62 | 44 | 27/07/2018 |
| Contractor | | 64 | 52 | 24/07/2018 |
| Contractor | | 66 | 66 | 24/07/2018 |
| Specialist - Demolition | | 66 | 103 | 31/05/2018 |
| Contractor | | 70 | 49 | 04/06/2018 |
| Client | | 73 | 46 | 29/10/2018 |
| Professional Service | | 76 | 44 | 22/05/2018 |
| Contractor | | 83 | 50 | 30/07/2018 |
Source: Build UK