Premier Inn, which had been due to open this month, now won't open on London's Berwick Street until well into next year
The operator of a Premier Inn being built by Interserve on the London street made famous by the Oasis album (What's the Story) Morning Glory? has confirmed the job is months behind schedule.
Berwick Street in London's Soho district was the street used for the cover of Oasis's 22-million selling album which came out in 1995.
Building understands the £25m job to turn a host of shops, including fabric retailers and record stores, into a new hotel, residential and retail scheme had run into problems with the groundworks.
The 110-bedroom Premier Inn hub hotel was due to open earlier this month but a spokesperson for the budget hotel chain's operator, Whitbread, admitted it was up to 10 months behind schedule.
He said: "Given the complexity of the project, and its central London location, the development is running behind the initial construction programme." He added Interserve was now working towards a completion date of spring/summer next year.
But he denied claims the firm had told the contractor to open 60 rooms by this Christmas. "No ultimatums have been issued by Whitbread," he added.
The retail and residential project at 90-104 Berwick Street is being built for client PMB Holdings, owned and chaired by property magnate Peter Beckwith.
Along with the hotel, it will include private and affordable apartments and 13 retail units.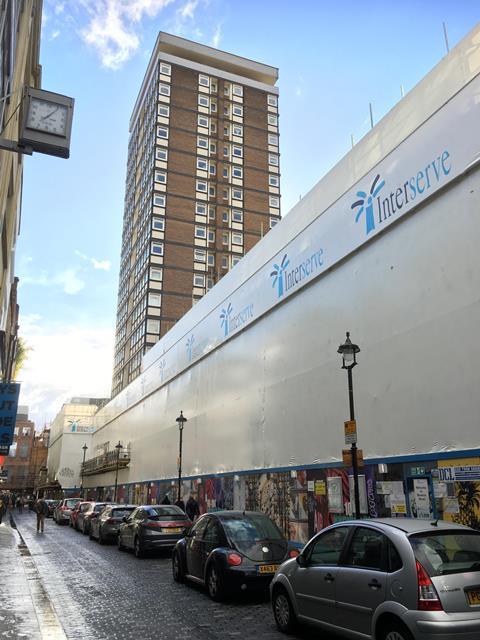 The scheme is understood to have been plagued by problems to do with the groundworks and issues arising from overrunning demolition works on a nearby car park.
One source told Building groundwork measurements for the development were incorrect and steelwork that had gone in had to be ripped out and put in again. "It's had a lot of issues, this job," said one.
And local businesses and residents, including people living in the Kemp House tower block which backs onto the scheme, have complained about noise from the site and disruption to the area.
One business said: "They seem to unbuilding as fast as they are building. No one around here has any confidence in what's going on."
A spokesperson for local authority, Westminster city council, said it was keen to see work finished as soon as possible. He added: "Berwick Street is an important area for traders, residents and visitors to Westminster so it's vital that construction projects in the area are completed on time, with disruption kept to a minimum. We have made it clear to the developer that we want to see a swift end to these delays and are working with them to make sure this happens."
Interserve declined to comment.
Earlier this year, the firm said it had pulled out of the London building market and in its interim results published in August said the decision had cost it £6.5m.