Intu properties has revealed the cost of its scheme in Watford has increased again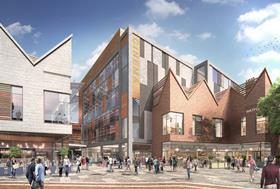 The cost of developer Intu's revamp of its Watford shopping centre has increased by 22% to £180m.
The cost of the job - which Laing O'Rourke took over from Bam last year - had already jumped by 48% in price last summer, from £100m to £148m.
In a trading update the shopping centre property manager said it had now agreed a fixed cost building contract for the revamp and extension works. Nearly 60% of the new space is arleady under offer.
Intu ascribed the latest jump in cost to "cost inflation" driven by booming demand in the nearby London market and a "re-defined" scope for the works, which now includes improved services including upgraded car parks.
Bam had been lined up as the main contractor on the job, but walked away last summer after failing to agree a price for the job with Intu.
Bam said at the time that "ultimately we could not reach agreement with Intu on a sum that reflected an agreed view of the market and the management of risks".
Bam had already completed the pre-construction stage as part of a two-stage tender for the main job, which has been subsequently taken on by Laing O'Rourke.
Intu said in the statement that the main contractor was now on site at the scheme following the demolition by Keltbray of the former Charter Place precinct adjacent to the centre.