Taoiseach put country into lockdown on Friday night
Ireland has told contractors to shut down construction sites after the country was put into lockdown by its Taoiseach on Friday night.
Leo Varadkar (pictured) said residents should stay home until at least 12 April unless they are buying groceries, attending medical appointments or collecting medication, getting brief exercise or making essential family visits.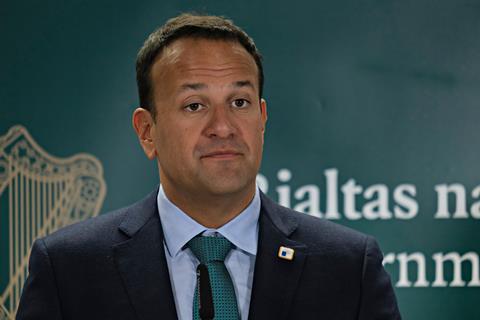 Almost all shops have been told to close and all gatherings outside of families have been banned.
Asked on Irish radio on Saturday morning if construction workers were essential, health minister Simon Harris said: "No, they're not unless they're building something that is essential to this pandemic."
He said this could be work to adapt a hotel for healthcare reasons but added: "The message is really simple. I need everybody in Ireland to stay at home."
In an email sent to members of Ireland's Construction Industry Federation (CIF) on Saturday afternoon, contractors were told to begin shutting down sites straight away.
CIF chief operating officer Hubert Fitzpatrick wrote: "Following the Taoiseach's statement, all workers must stay at home in all circumstances except where work is an essential health, social care or other essential service that cannot be done from home.
"According to minister Simon Harris, construction is not deemed as essential unless it relates to works which are essential to combatting the COVID-19 pandemic. This is effective from midnight last night.
"Members should arrange to secure their construction sites immediately. We recommend that members sending teams to secure such sites should call ahead to Gardai [police] to inform them that this is happening. If possible, provide such staff with a letter on headed paper explaining their reason for travelling to undertake emergency works in securing the construction site in case the Gardai engage with them."
The director of one firm, which works in both the UK and Ireland, and which has closed sites, said: "I think it's just a matter of time before the whole industry [in the UK] shuts down. Our industry will run out of road by the end of the week."