Sammon Group owed £7m by bust firm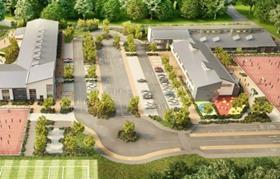 Irish building Sammon Group has been pushed to the brink of collapse following Carillion's liquidation.
The firm, has been granted protection from its creditors by the High Court, which appointed an interim examiner to the company last week.
Examinership is a process in Irish law where protection from the court is obtained to assist the survival of a company. It allows a company to restructure with protection from creditors with the approval of the High Court.
According to the Irish Times, the contractor, which reported turnover of €72m (£63m) in 2016, was owed €8m (£7m) by Carillion for work on schools projects when the firm went bust in January.
Michael McAteer of accountant Grant Thornton has been appointed as interim examiner to the Kildare-based firm and three related companies.
High Court judge Justice Robert Haughton said that, while the firms were insolvent, he had appointed McAteer because an independent expert's report showed the companies had a reasonable prospect of surviving.
Sammon, which employs more than 200 people, was hired by a joint venture that included Carillion to help build five schools in Ireland, including schemes at Wexford and Wicklow (pictured).
Inspired Spaces, a partnership between Carillion and an investor, the Dutch Infrastructure Fund, won the contract to build the schools, and appointed Sammon as a subcontractor. Work stalled following Carillion's collapse.
The examiner has a fixed period of 70 days in which to prepare an arrangement, which must be approved by at least one class of creditors of the company.
If it can be shown that the scheme provides for the survival of the company and that it is not unfairly prejudicial to any creditors of the company, the court has discretion to approve it.
M&E specialist Vaughan Engineering became the first company to go under in the wake of Carillion's collapse, saying it was owed at least £600,000 by Carillion and had been due to carry out more than £1m worth of work for the firm in the first quarter of this year.
KPMG was appointed administrator just before Easter.