Irish contractor stops work on UK sites as it awaits decision from banking rescue fund
Work has been suspended on all of troubled Irish contractor McCabe Builders' UK projects after the company's debts were transferred to the Irish government's vehicle for holding toxic property assets.
Among the projects affected is the £60m Terry Farrell-designed housing scheme in Shoreditch, east London, where subcontractors last month walked off site claiming they
had not been paid.
The news will intensify UK government fears of "contagion" - that the problems afflicting Ireland's battered economy will have an impact on the UK.
McCabe Builders UK's Irish parent, Leinster-based McCabe Builders, one of Ireland's largest construction groups, entered the National Asset Management Agency (NAMA) during the summer but site work continued at its UK business until now.
We've had to suspend work while NAMA decides on funding. We hope to be back in January

Tony walsh, mccabe builders uk
NAMA was created in response to Ireland's banking and property crisis, and has taken over all the major loans and debts of its banking sector.
It is currently holding about €90bn (£76bn) of debt, run up by six banks, after purchasing - at a sharp discount - all property development loans worth more than €5m. An estimated 20% of those loans are understood to be located in the UK.
In addition to "toxic" loans, NAMA has also taken over good loans, which has caused controversy and resulted in one contractor taking the government to court.
Tony Walsh, director of McCabe Builders UK, said: "We've had to suspend work temporarily while NAMA decides on funding. We're hoping to be back on site in January."
McCabe Builders had bank borrowings of €200m for the year ending 31 August 2008, mostly with Anglo Irish Bank, which was nationalised after declaring losses of €12.7bn. This was the largest loss in Irish corporate history.
McCabe made a pre-tax loss of €12.9m for the same year.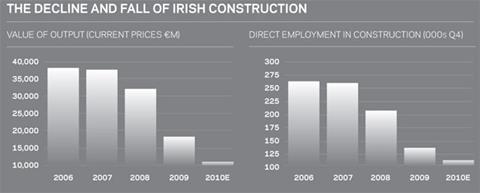 Ireland's government this week agreed a mooted €90bn loan from the EU courtesy of a financing package through the European Financial Stabilisation Mechanism and the European Financial Stability Facility.
The British government is expected to provide about £7bn between its contribution to the EU loan and a separate bilateral loan. The Swedish government is also lending Ireland about £902m.
The loans will effectively take the Irish out of the bond market for several years where yields are at record highs because of the country's toxic debt and the virtual collapse of its banking sector.
Ireland's bailout marks the latest blow to an economy that more than doubled between 1996 and 2006.