Communities secretary given housing portfolio following cabinet reshuffle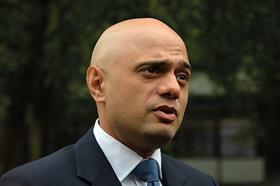 Communities secretary Sajid Javid has had housing added to his ministerial brief, following today's cabinet reshuffle.
Previously he was secretary of state for communities and local government but the rebrand means Javid is now secretary of state for housing, communities and local government.
Javid (pictured) is due to hold a conference later this spring on how to improve the design quality of homes.
The government wants the thousands of new homes it is promising to build to be in keeping with local architecture – or risk losing the support of locals.
Last month he said he wanted to see more local firms get involved with the planned house building boom – which will see a planned 300,000 homes built every year from the mid-2020s.
"Ever since the recession, the market has been dominated by a handful of very large developers. It used to be the case that more than 60% of new homes were delivered by small firms. Today the figure is half that, and that's a tragedy."
David Orr, chief executive of the National Housing Federation, said redefining Javid's role to emphasise housing shows prime minister Theresa May's commitment to fixing the UK's crisis it is experiencing but warned targets won't be met without the required supply of affordable land.
"Actions speak louder than words. If we are to meet the Government's ambition of building 300,000 homes a year, every year, then we need a long-term supply of affordable land.
"The Government must ensure public land is used for housing and that private land is bought where it is needed to create new communities."
Brian Berry, chief executive of the Federation of Master Builders (FMB), also backed the move but echoed Orr's words of caution.
"Actions always speak louder than words which is why it is vital that we also see continuity, application and a continued willingness to be bold where necessary in housing policy.
"We want to see continuity in terms of building on a set of good policies to unleash the capacity of the SME house building sector set out in the Housing White Paper; application in terms of effective implementation; and a willingness to still be bold where Government intervention is still called for."