Investment aimed at speeding up the construction of more than 150,000 homes across England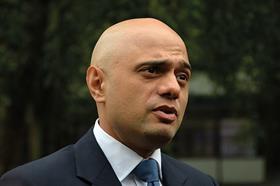 Communities secretary Sajid Javid has confirmed a £2.5 million cash boost to increase the delivery of over 155,000 new homes in garden towns across England.
He revealed the plan today (4 October) which will see nine-locally led developments each receiving new funding to fast track the build-out of housing projects.
These will be located at Bicester, Didcot, Basingstoke, Otterpool Park in Kent, Aylesbury, Taunton, Harlow-Gilston, North Northamptonshire and North Essex.
The new funding will be used to support local authorities and communities in delivering "ambitious" proposals, accelerating the progress of developments through additional dedicated resources and expertise.
Javid said: "Locally-led garden towns have enormous potential to deliver the homes that communities need.
"New communities not only deliver homes, but also bring new jobs and facilities and a big boost to local economies."
A garden town is a development of more than 10,000 homes. Garden villages are smaller settlements of between 1,500 and 10,000 homes.
Across England, the government is supporting the locally-led development of 10 garden towns and cities, as well as 14 garden villages - with the combined potential to deliver 220,000 new homes across the country.