The scheme is being run by K&M McLoughlin Decorating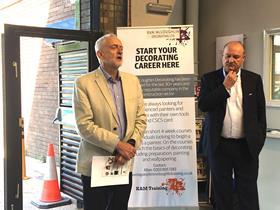 Labour leader Jeremy Corbyn has shown his commitment to skills training, launching a new construction training facility and programme in north London.
Corbyn officially opened K&M McLoughlin Decorating's new training and exhibition centre earlier today.
Speaking at the launch in the firm's new Islington training facility, Corbyn said: "We have a massive skills shortage in this country and it has to be addressed.
"We've spent far too much time saying 'well your successful if you've go to university and get a good degree and go on to get a good job after that'. Yes you are successful, but we also want people who are highly skilled, like electronic engineers, cabinet makers or designers, which isn't necessarily going to be taught at a university.
"It's about respect for people and respect for the skills that they have."
Kevin McLoughlin (pictured right), chief executive of the £8m turnover company, said: "Five years ago we were asked by Islington Council to get unemployed people into work.
"Since that time we've had more than 600 people come through here, of which 240 people have found full-time employment."
"We set out to try to do something about it [skills crisis] as far as our sector is concerned. I believe that the concept could become a model for other parts of the industry, and indeed for other types of industries."
The new scheme includes three strands, which will all be carried out at the Islington facility.
The first is an entry-level Pre-employment Training module that runs for four weeks and aims to teach key skills and disciplines required for full-time work to school leavers and young job-seekers.
The second is apprenticeships, while the third is an improvers training scheme for people aged 24 and above who are looking to learn or improve their professional decorating skills.
McLoughlin said the programme was focused on corporate social responsibility and reaching those people from challenging backgrounds.
"Our industry needs to give opportunities," he said. "Why is it that this industry talks about corporate social responsibility but it is it such a failure within our industry?"
Participants in the training programmes who have gone on to work at the company include former prisoners, those from low socio-economic backgrounds and a wide age range, with the oldest participant starting training aged 61.
McLoughlin said it was imperative that clients, particularly government, put greater emphasis on businesses' social responsibility through procurement.