Optimism sinks to level last seen in September 2020
Nervous clients along with ongoing inflation and worries about the UK's economic outlook helped send industry optimism sinking to its lowest level in more than 18 months.
Formal confirmation of the growing evidence that developers and investors have decided to sit on jobs for the time being was underlined in fresh data out today.
The latest PMI data drawn up by S&P Global and CIPS said total activity for April stood at 58.2, down from the 59.1 for the month before although remaining well above the critical 50 no change mark for the 14th consecutive month since last February.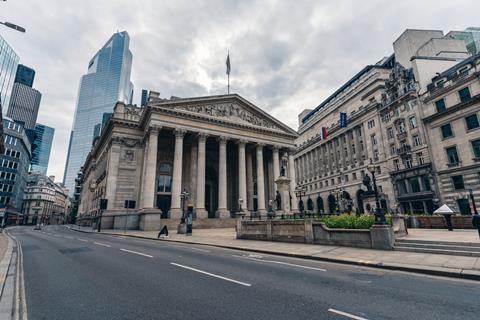 But confidence slumped to its lowest level since September 2020 when the UK was still in the grip of the covid-19 pandemic. Scape chief executive Mark Robinson said: "A slowdown in sector output has felt almost inevitable. Price increases and rising material costs are beginning to factor into future purchasing decisions."
And Tim Moore, economics director at S&P global, said: "Tender opportunities were less plentiful in April as rising inflation and higher borrowing costs started to bite."
Yesterday, the Bank of England warned the UK faces a "sharp economic slowdown" this year.
It raised interest rates to 1% from 0.75%, their highest level since 2009 and the fourth consecutive increase since December.
Inflation is at a 30-year high and set to hit 10% by the autumn as the Ukraine war drives up fuel and energy prices with the impact being that business and householders rein in their spending, hitting growth.
Aecom's head of cost management for the UK and Ireland, Brian Smith, said the cost of energy would continue to head north for some time yet.
He added: "The immediate impact of the recent energy price shock is working through but lagged effects will continue to be felt later in the year as existing supply and energy agreements come up for renegotiation. Our latest view is that building cost inflation will hit 9% again in Q1 next year and will average around 8% in both 2022 and 2023."
According to the S&P figures, commercial remained the strongest of the three ranked sectors followed by civil engineering, which was buoyed by the ramping up of work on HS2.
>> See also: Trends and prices data dashboard
However, evidence of the impact of inflation on household budgets was seen in the residential sector, which has been the strongest of the three in the post-pandemic recovery, with housebuilding posting a score of 53.8 – down from 54.9 in March.
But the ongoing boom to finish jobs triggered by last year's unleasing of post-pandemic work means that suppliers are struggling to keep up with orders, with 45% of those surveyed saying lead times have stretched out again.
Delays are being exacerbated by delays at ports and the war in Ukraine, adding to existing shortages of staff, materials and transport. Higher prices paid for energy, fuel and raw materials led to a steep increase in average cost burdens during April.
Max Jones, director in Lloyds Bank's infrastructure and construction team, said many contractors were adopting the lessons learned during the pandemic top get through the current period.
He added: "Inflation is biting for contractors, with the price of some materials more than doubling since the start of the year. Many are viewing the challenge through a similar lens as the pandemic by adopting best practices such as prompt payments to suppliers and deploying capital to build stocks as ways to minimise disruption."