Prime minister makes statement on priorities for his government
New prime minister Boris Johnson has been grilled about his commitment to major infrastructure projects.
In his first appearance at the dispatch box as prime minister, Johnson was quizzed on the future of both Northern Powerhouse Rail (NPR), or HS3, and the expansion of Heathrow.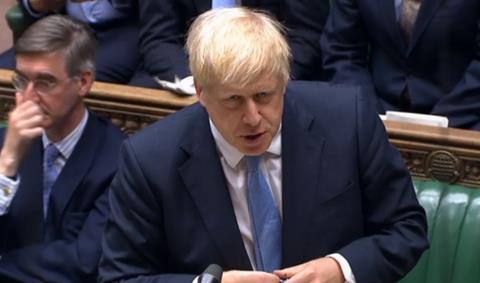 In the House of Commons yesterday, Conservative MP Andrew Percy asked Johnson to "commit quickly" to HS3, which would run east to west to connect cities in the north of England.
He responded saying the plan was "truly exciting" and something "we should definitely be doing".
Johnson has been a vocal opponent of HS2, which is intended to be NPR's predecessor, having drawn up plans for a review of the project with former – HS2 chairman Douglas Oakervee tipped to lead it.
When asked whether he would consider scrapping the expansion of Heathrow, Johnson said: "I'll study the court cases."
Johnson has also been an outspoken critic of Heathrow's expansion, having previously promised to "lie down in front of bulldozers" to stop a third runway being built.
Meanwhile, the head of the National Federation of Housebuilders has warned a promise made by Johnson yesterday had to be translated into policy.
Johnson said that EU citizens living and working in the UK would have "an absolute right to remain", once the country departed the EU on 31 October.
But he stopped short of offering legislation to guarantee EU citizens' rights.
Richard Beresford, chief executive of the NFB said: "The government has made a number of 'right to remain' commitments to EU nationals but many workers remain uncertain about their future.
"Until Boris Johnson delivers the legal certainty that businesses and EU workers need, they will struggle to plan for their future. We need policy, not promises."
An estimated 165,000 EU nationals work in the UK construction sector, around half of whom comes from former Eastern Bloc countries.