Planning decision on Costain and Grimshaw station revamp to stand after judge dismisses judicial review bid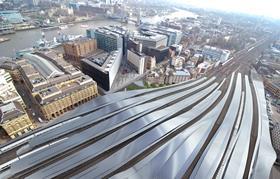 A judge has found there are no grounds for argument for pursuing a judicial review against the £400m revamp of London Bridge station.
A court heard there was no fault with Southwark council's planning process, as claimed by campaign group Bermondsey Village Action Group.
Costain is gearing up to deliver the Grimshaw-designed overhaul of the station, which will include a ticket concourse larger than the pitch at Wembley Stadium.
A Southwark Council spokesperson said: "All planning applications are determined in a transparent and publicly accountable manner by the council.
"The planning process is open to public consultation, scrutiny and commentary, in accordance with public law principles.
"The decisions of the council are open to statutory challenge, which has been the case with Network Rail's application.
"The judges found that the council's assessment was rigorous and thorough, taking into account vastly complex issues for the redevelopment of the station, and that the decision made by the planning committee was sound."