Official statistics reveal flagship retrofit scheme dramatically underperformed in the 12 months since its launch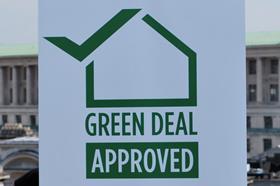 Just 626 Green Deal plans have gone live in the first year of the scheme's operation, official statistics published today show.
Since the Green Deal was launched in January 2013, a total of 1,119 Green Deal plans have been signed by customers through to the end of December, but 493 of these are not yet live with the customer paying back the loan through their energy bills.
The scheme was launched in January 2013 but due to a variety of delays Green Deal plans were not able to be issued, processed and in operation until the spring of 2013.
The number of both signed and live plans falls far short of expectations. Energy minister Greg Barker has previously said he expected 10,000 plans to be signed by the end of 2013.
In December, the number of meaures installed under the Green Deal fell for the second month running to 283, down from a peak of 505 in October.
Over the year 1,472 retrofit measures have been installed under the Green Deal. Boiler replacements accounted for 32% of the total measures installed in the scheme's first year, micro generation accounted for 22% and solid wall insulation accounted for 18%, other insulation and heating measures made up the rest of the installations.
There were 129,842 Green Deal assessments conducted over the year.
The figures come as today an industry group called for the government to underwrite Green Deal loans to bring down the interest rate and drive take up.
Paul King, chief executive of the UK Green Building Council, said the figures should serve as a "wake-up call" to government that the Green Deal was "not delivering in its current form".
He added: "Government must recognise energy efficiency as a national infrastructure priority and be prepared to delve into its purse to make its flagship policy more appealing through stronger incentives and more attractive finance options."
The figures also show that work contracted under the Green Deal's sister scheme the Energy Companies Obligation (ECO), collapsed following the announcement of government plans to slash the scheme in December.
In December, just £1.2m of ECO work was contracted through the government's brokerage system, designed to help smaller firms win work under the scheme, compared with £57.6m in November. All of the work contracted through brokerage in December was in an auction that preceded the government's announcement.
Barker said: "129,842 Green Deal assessments have now taken place with 81% of people consistently telling us that they are taking action following their assessment.
"Thanks to the Green Deal and ECO, over 400,000 households have already been helped to keep warm this winter, demonstrating the potential to transform Britain's housing stock."