Firm due to unveil half year results at end of July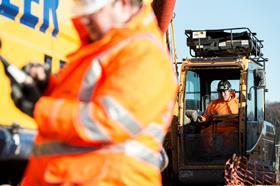 Ground engineering specialist Keller said it has shrugged off poor weather which blighted its North American and European markets earlier this year with income and profit growing.
In a trading update ahead of its AGM today, the firm, which completed its deal to buy US geotechnical firm Moretrench for $90m (£64m) in March, said there has been no change in its markets since it reported its 2017 results at the end of February.
It said that poor weather in North America had hit the business in the first couple months of the year but added: "Trading has improved notably in the last two months. The US construction market as a whole remains solid and continues to grow steadily."
And it said: "Despite the poor weather across most of Europe in the first quarter, our core European businesses are performing in line with expectations."
But it said work in the Middle East had slowed down after it completed two major schemes in the region while work in Brazil remained "challenging".
Cenkos analyst Kevin Cammack said the update was "encouraging" and added: "There has clearly been good claw back from the bad weather impacts of Q1 which should be fully made up by the half-year."
The firm, which said its order book stood at £1bn, is due to unveil its interim results on 30 July.
In 2017, the firm posted increased turnover of £2bn and improved pre-tax profit of £110m.