Geotechnical firm recently awarded £50m package on controversial Neom project
Keller is preparing for work on its first major contract on Neom, a $500bn new city set to be built on the coast of Saudi Arabia.
The ground engineering contractor released its half-year results today, which demonstrated strong growth and highlighted Neom's "potential to generate contract revenue in the hundreds of millions of pounds in future years".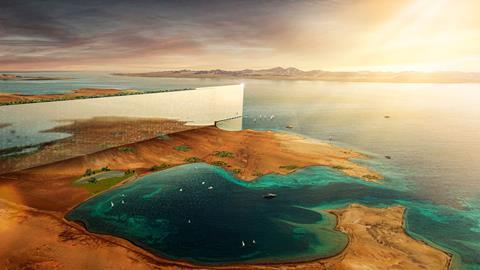 Revenue at the company for the six months to 30 June was up 36% from £984m to £1.34bn, driven mostly be increased revenue in North America, while pre-tax profit also rose, from £39.5m to £49.6m.
Keller is one of a small number of geotechnical firms working on The Line, which is Neom's first development and is comprised of two horizontal skyscrapers, each 170km long.
The firm was awarded its first works order on the project last month, which was worth roughly £50m, and while there has been scepticism from some quarters about the futuristic plans for the new city by the Red Sea, but Michael Speakman, Keller's chief executive, said he had no doubts the project would go ahead.
He said: "We know from our work on site already that there is a lot going on. They're building a batch plant at the moment [and] they've already built three very big encampments for people to work there."
"Make no mistake, this is happening, it's just a question of the pace at which it gets executed."
Speakman said he expected the project to be delivered more slowly than Saudi Crown Prince Mohammed bin Salman, who this week said he expected 1.5 million people to be living in The Line by 2030.
The proposed city is meant to be car-free and carbon neutral, but critics have accused the Saudi government, which is helping bankroll Neom, of greenwashing, raising concerns about the environmental consequences of building a new city in the desert and about the labour practices in the country.
Speakman said Keller would ensure its supply chain was "good and proper" with regards to labour standards and that workers are treated "appropriately".
He added that it was "trite for people to throw bricks at the Saudis" on environmental issues, while building similar residential infrastructure in their own countries.
>>> Keller says business blighted by materials shortages and inflation
>>> Saudi Arabia shows off concept designs for 170km smart city
Speakman said the firm's performance "could have been even better" if not for some north American headwinds, including supply of raw materials.
He said that while the company had been able to pass the price of diesel onto clients, delivery of cement and aggregates in some regions had been a challenge.
Keller also posted a record order of £1.6bn at the end of June, up 31% on the prior period.