Firm already speaking to Highways England and local authorities about work
Keltbray is set to target work in the lucrative roads sector and has opened up talks with Highways England and local authorities about the move.
The firm, best known for its work in the London commercial market, has completed a rejig of its business under new chief executive Darren James which has seen former Multiplex boss Ashley Muldoon brought in as a non-executive director.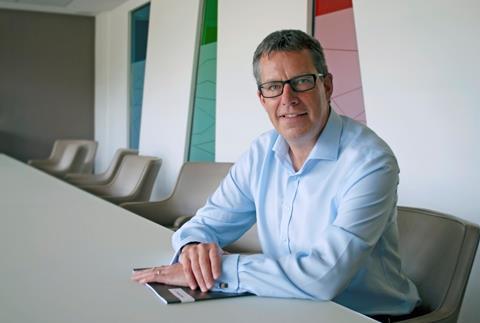 Keltbray has been diversifying its business away from its core London office market sector in recent years into areas such as rail and energy and has now begun the move into highways work where, according to its latest annual report, Highways England spent £4.5bn in 2019/20.
The firm's experience of road jobs has been limited to enabling works as part of building schemes but it is looking to expand into the highways market using its existing structural and reinforced concrete experience.
The arrival of James (pictured) at the beginning of April from infrastructure specialist Costain, where he was chief operating officer, has prompted the move which is being spearheaded by another former Costain executive Tim Bowen, who was in charge of the firm's roads business for eight years, before leaving three years ago.
Bowen, who also joined in the spring as managing director of strategic development, said Keltbray was already bidding jobs on trunk roads and added: "It's about seeing attractive adjacent markets and making sure we deliver services that we do already. The most obvious is things like structures such as bridges along with culverts."
He declined to put a figure on how much the business could be worth to the firm, which in its most recent set of accounts posted a record income of £563m in the year to October 2019 – although it has warned this figure will fall back this year.
But Bowen said: "We want to start at the beginning. We will be really selective. We want to deliver excellent outcomes and see where that takes us."
As well as Highways England, where it is looking at work on the agency's £3.6bn Operations Scheme Delivery Framework, the firm is also speaking to Tier 1 contractors about picking up subcontractor packages on road schemes.
The news comes as James completed a wider rejig at Keltbray which has seen the firm group its activities into three new businesses.
Keltbray Built Environment is the new operating division for its demolition, civils, piling and structures business while its rail arm has been rebranded Keltbray Rail. Keltbray Energy is the new operating business for its work in the power distribution, transmission and renewables sector.
Michael O'Hagan, who was brought in from concrete specialist Getjar earlier this year after more than 25 years at the firm, is in charge of its built environment arm and will report to chief operating officer Vince Corrigan.
Martin Brown is managing director of Keltbray Rail with Mike Snee the boss of Keltbray Energy. Both will report to infrastructure managing director Phill Price.
A new parent company, Keltbray Holdings, has been set up to lead the firm's corporate governance structure.
Muldoon, who last month started work as chief operating officer at data centre firm Global Switch, will report to non-exec chairman Tony Douglas.
Also joining as a non-exec is the former head of Heathrow's expansion programme Phil Wilbraham who left the airport over the summer after 17 years with covid and a Court of Appeal decision, which ruled the government's airport expansion policy was illegal, stopping the scheme in its tracks.
He will also report to Douglas, meaning the pair link up again more than a decade after Douglas headed up the T5 programme, later becoming chief executive of the airport before being appointed Laing O'Rourke chief executive in 2007.