Architect, contractor and specialists to speak as public inquiry restarts today following resignation of panel member
The architect, contractor and cladding specialist behind the refurbishment of Grenfell Tower are expected to give evidence today as the public inquiry into the 2017 blaze re-opens.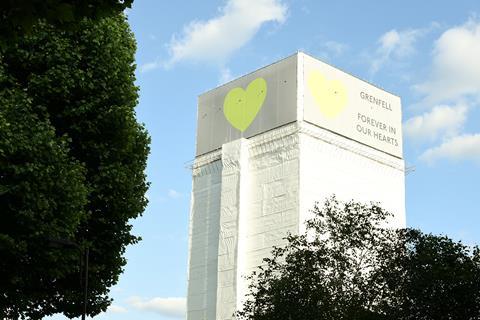 Architect Studio E, contractor Rydon and cladding specialist Harley Facades are expected to make opening arguments on the first day of the second phase of the inquiry, which will determine how Grenfell Tower came to be in a condition that allowed the fire to spread.
The resumption of the inquiry comes after the announcement on Saturday that a newly appointed inquiry panel member, engineer Benita Mehra, had resigned because of her alleged links with cladding panel manufacturer Arconic.
The first phase of the public inquiry in October, which examined the events of the night of the tragic fire on June 14, concluded that the presence of polyethylene-filled Aluminium Composite Material (ACM) cladding panels was the "principal reason why the flames spread so rapidly up, down and around the building".
The second phase is expected to last until at least June 2021 and is split in to seven "modules", including one that will look at the cladding panels specifically, and another at the government's role in setting building regulations.
The first module, expected to run until April, will look in detail at the refurbishment of the tower, including how it failed building regulations, who took decisions to allow it in its final form, and what factors influenced those decisions.
As well as the architect, contractor and cladding specialist, this week will also hear opening submissions from the cladding and insulation manufacturers Arconic and Celotex, Kensington and Chelsea Tenant Management Organisation, and their employer's agent, Artelia.
The inquiry issued a statement on Saturday saying that Mehra, who was only appointed last month following the resignation of predecessor Nabeel Hamdi, had also left the panel.
Her departure followed a furore over the appointment, made by prime minister Boris Johnson, because of her alleged links to Arconic. Mehra had previously been president of the Women's Engineering Society, which received a £71,000 grant from the Arconic Foundation, the charitable arm of the ACM cladding panel manufacturer.
In her resignation letter Mehra said she had made a "regrettable oversight" by not connecting the two events, although the government maintains that there was no real conflict of interest.