New mayoral appointments include Andrew Adonis and Islington housing campaigner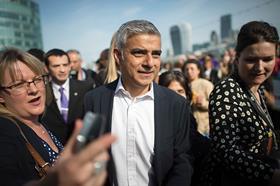 New London mayor Sadiq Khan has made a number of appointments to his top team which includes naming National Infrastructure Commission chair Andrew Adonis as head of the Crossrail 2 board.
Khan has said he wants Val Shawcross – Labour's former spokeswoman on transport at the London Assembly – to be his deputy mayor for transport as well as deputy chair of Transport for London. Shawcross stood down from the assembly earlier this month.
Both Shawcross's and Adonis's appointments will need to be rubber-stamped by the London Assembly. As mayor, Khan becomes chairman of TfL.
And Khan has asked Islington councillor James Murray to be deputy mayor for housing.
Murray, who said he will stand down from his current role as executive member for housing and development, helped make the north London council the first local authority to reject the government's plan to raise 'affordable' rents and launched a major building programme of homes for social rent instead.
Murray was a vocal opponent of plans to build nearly 700 homes at the Mount Pleasant sorting office in north London which has been designed by architects AHMM, Allies & Morrison, Feilden Clegg Bradley Studios and Wilkinson Eyre.
He told a planning meeting, at which former mayor Boris Johnson agreed to give the scheme the green light back in October 2014, that site owner Royal Mail had conducted a "cynical exercise to maximise the value of the land asset at the expense of affordable homes for ordinary Londoners".
He has also flagged concerns about the number of homes being built in London that are sold to people from overseas – with no one moving into them.
Speaking about a number of new towers being built in the borough, Murray said two years ago: "It's galling for Londoners to see homes being sold overseas before they're even built – and it's outrageous for new homes to then stand empty in the middle of a housing crisis."
Khan, who has been in the job less than three weeks, said: "Housing is a top priority and I want all Londoners to be able to buy or rent a decent, affordable home.
"James Murray comes to City Hall with a strong track record of success, having championed the delivery of innovative housing solutions for years. I know he will be a huge asset to the team as we work towards building the thousands of affordable housing London needs."