London mayor says training academy will help work start on 90,000 affordable homes by 2021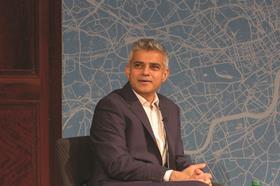 London mayor Sadiq Khan has said he wants to open a construction academy as part of a £250m plan to address the capital's housing crisis.
He said the amount from City Hall will be used to buy up land and prepare it for new and affordable housing and added that money made from selling the land to housebuilders will be ploughed back into buying up more land for development.
As part of his draft housing strategy, called London Housing Strategy, the academy will "help ensure that training providers and employers are working together as effectively as possible" on training.
The document added: "Improving the skills, capacity and building methods of the construction industry.
"The mayor is encouraging more young people to train for jobs in the construction industry, helping improve skills training offered, supporting a move to greater precision-manufacture of homes in factories and supporting the industry through the risks posed by Brexit."
Yesterday, a leaked Home Office document outlined plans to cut the number of low-skilled migrants from the EU working in the UK. Around 45% of the capital's workforce is from overseas with more than half of that figure form the EU.
Khan said he wanted to see more off-site manufactured homes with the document adding: "A shift to more of the components of London's homes being precision manufactured, including in factories, will be supported."
The mayor said he wanted work on 90,000 affordable homes to have started by 2021 and admitted that he would use compulsory purchase orders to make sure he was on track to meet his target.
He said: "I inherited a development pipeline where just 13 per cent of homes given planning permission were affordable, which is unacceptable. I've been honest from the start that turning things round will take time and fixing the housing crisis will be a marathon not a sprint, but my strategy sets out how we can start making a real difference to affordable housing in the city."
FMB London director Barry Mortimer welcomed the proposals set out by the mayor and added: "If we're to build the number of new homes Londoners need, we must urgently make much better use of the many existing small sites that are dotted all over London."
And thinktank Centre for London also threw its support behind the plan but its research director Richard Brown warned: "The mayor needs greater powers over land assembly and property taxes, to create… efficient use of land, find the sites for new development, and enable the public sector to share in value rises unlocked by investment in infrastructure."
But Conservative London Assembly member Andrew Boff called the plan "vague idealism" and accused Khan of not costing the strategy, adding that he had not spelt out where the £250m to buy up land was coming from.