Chief executive Paul Sheffield says he is excited about using his skills to do "something completely different"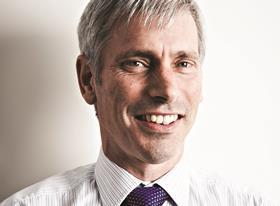 Kier chief executive Paul Sheffield has hinted he may leave the construction industry when he steps down from his position in June.
This morning Kier announced Paul Sheffield would leave his post on 30 June 2014, and would be replaced by current finance director Haydn Mursell.
Speaking to Building, Sheffield said it would be "exciting to try your skills at something completely different".
He added: "I think when you get to the top of the business its more about business management rather than building blocks, pharmaceuticals or IT… When you've worked for the best construction company, what else can you do."
Sheffield declined to comment on whether he had a new position already lined-up. "When you're working flat out in a business 24/7 it doesn't give you much time [to find a new job]," he said.
By the time Sheffield exits he will have been in the post for four years. "When I took over this role … I was always of the view that it was not necessarily healthy for a business for leaders to stay in post forever," he said.
Sheffield, who became chief executive in April 2010, was committed to staying in post for five years, through to April 2015, but when Kier board recently asked him to commit to another five years beyond that he declined.
Sheffield and Kier then agreed to bring forward Sheffield's departure to this summer after the firm decided Mursell would step into the role – avoiding the risk of the recruitment process dragging on.
Sheffield joined Kier in 1983 as a graduate civil engineer before working as a project manager in the 1990s.
He joined the board of Kier's construction arm in 1998 and was promoted to the group board in 2005.
Sheffield said the business was in "really good shape" following a round of restructuring last year and predicted further growth over the next few years as "markets are without doubt improving".
The firms share price was unmoved by the news this morning of Sheffield's impending departure, falling just 0.4% by midday.
Sheffield said Mursell, his replacement, was "really bright, a really good people person" who would work well with current chief operating office Steve Bowcott, who has a history in construction services.
He added: "He very clearly comes from a financial background rather than an operational background so there will be a different approach to risk management."
Sheffield said that the contracting market was set to remain tough for a number of years and firms could become "busy fools" working a lot without making much money because of pressure on margins.
He said: "If you win work today with low margins and low risk contributions then any inflationary pressure that comes up in the industry or on the project are going to eat away at your profit margin.
"In parallel with that cash flow is going to be much more critical than it has been in the past because of payment terms on contracts. The government for example are in the process of developing legislation that will mandate payment terms down the supply chain, which is no bad thing.
"It will be impossible for tier one contractors to generate cash surplus on projects. Traditionally a cash surplus has allowed contractors to go and invest in other development and that will not be quite such an attractive option in the future if cash flow is more difficult."
Sheffield suggested that margins across the sector should be should be 4-5% as opposed to their current level of 1-2% if contractors could not generate a surplus of cash.
He said: "If your construction business is not going to generate the levels of cash that it used to, why would you get out of bed for 1-2%?"
He said that construction clients did not appreciate that cash surpluses allowed tier one contractors to invest and keep prices down.
"I know they haven't cottoned onto it because I tell them and it's like a spaceship has just landed," he said.