Paul Sheffield says review of contractor's construction business is just part of its ongoing 'prudent' business management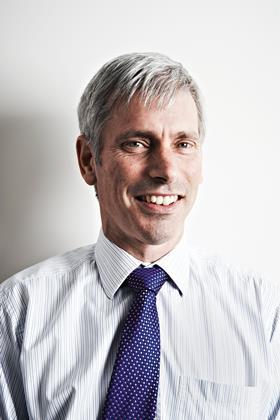 Kier's boss Paul Sheffield has played down the significance of the contractor's fresh cost-cutting drive in its construction business, saying it is part of its ongoing prudent business management amid difficult trading conditions.
Speaking to Building after the contractor posted a trading update, Sheffield said the cost review of its £1.4bn turnover construction operations, signalled in trading update yesterday, was simply part of its ongoing business management, rather than a major new departure.
He said: "What you have got to bear in mind is that we are now in the fourth year of this industry recession, every business that wants to keep trading profitably has to continue to look at its cost base and its efficiency.
"If there is any business out there not doing that at the moment then they're going to be trading below the line pretty quickly.
"We are going to continue to run this business they way we have been running it the last ten years and that is constantly looking at our cost base and our efficiency and if work coming through the front door is inadequate to suit the scale of the business that we've got, then we will have to adjust the size of the business as that crops up."
In the trading update for the period from 1 July to 15 November, the £2.1bn turnover Kier Group said it remained on course to meet its expectations for the current financial year and that it had experienced "a good level of bidding activity across the Group".
But it added: "Today's trading environment remains difficult with little sign of improvement in the UK construction market.
"In light of this we are conducting a further review of our construction operations to ensure we remain as efficient as possible."
The move comes in the wake of a restructures by Morgan Sindall and by Balfour Beatty's UK construction business, as contractors seek to rationalise their operations to cut costs.
Sheffield said recent these recent announcement were "probably reacting a bit too late to the continuing pressures that we've seen in the market for a long time".
He added: "Over the last four years the building side of our business, it's probably 25% smaller than it was four years ago, so we very carefully every weekend, every month, monitor the work we have ahead of us and if we have to tighten our belt a little bit then we that's what we will have to do and we will get on with it.
"If you go through life assuming things are going to be better next week, then you are going to hold your breath until you get to next week - but then you'll quickly realise that it isn't going to be next week, it's going to be next year and very soon you're going to run out of breath.
"So you need to be pro-active all the time and continue to manage your cost base."
Sheffield added that he was pleased with the firm's trading performance over recent months. "Sometime ago we recognised that the 2013 figures, bearing in mind our year end is in June, not December, were going to be lower than the 2012 figures," he said.
"We anticipated that a year ago and so far we are coming in line with that expectation.
"But I don't see anything getting better in the next year. The competitive building market is very, very tough at the moment - but the benefit we've got is that we've got far more of our work coming through frameworks than anybody else, so we can rely less on competitively won work.
"It's the competitive market that is in some instances very savage. But we can pick and choose a bit more and we don't have to go and fill our boots, or fill our volumes up, by competing for everything we see."