But firm says initiative is beginning to make inroads into its debt pile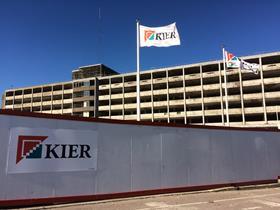 Kier has said the expense of rolling out its Future Proofing Kier strategy will cost the firm £10m more than it saved in the first half.
In a statement issued ahead of it AGM this lunchtime, the firm said: "As anticipated, the costs of implementing the FPK programme in the first half of the financial year are forecast to exceed the realised savings by approximately £10m."
But the £4.5bn turnover firm said the programme, designed to streamline the business and help cut its debt pile, was making decent progress.
It said it was anticipating average monthly net debt of approximately £390m for the first half of its current financial year, compared with approximately £410m for the second half of 2018 which ended in June.
It added: "The level of net debt is increasingly a key focus for stakeholders in the industry and the board recognises the importance of a strong balance sheet."
Yesterday Kier announced it had raised £24m by selling its stake in a JV providing road maintenance in Australia.
The sale amounts to a hefty chunk of the £30-50m Kier plans to pocket from disposal of non-core businesses. The group is targeting a £250m net debt figure by July 2021.